Our mission at MistoBox is simple: We want to make it easy for you to discover and brew the world's best coffee at home. It's our passion to create an unforgettable specialty coffee journey that is personalized to the unique taste preferences of each and every coffee lover. In the last 8 years, we've sent more than 700,000 bags of coffee to our customers and learned a lot along the way about what people prefer in coffee and how they are perfecting the coffee tasting experience at home.
When it comes to drinking coffee, satisfaction is most impacted by three factors; the quality of coffee you're drinking, how you brew it, and your own personal coffee taste preferences. We believe that by empowering you with easy to understand information on taste we can help you choose better coffee, improve how you brew it, and inspire a deeper appreciation for what you're experiencing every day.
What is Specialty Coffee?
Technically speaking, a coffee is deemed "specialty" if it scores 80 points or above on a 100 point coffee-review scale by a certified Q grader who is credentialed by the Coffee Quality Institute (CQI). Q graders evaluate and score coffees utilizing standards developed by the Specialty Coffee Association (SCA) to identify coffee that objectively meets these high-quality standards and should be treated as a premium product. Coffees that are ranked below 80 points are considered commercial grade and are sold at lower prices in bulk to stores, offices, and large coffee brands. The quality is compromised in exchange for quantity.
Why is MistoBox committed to specialty coffee?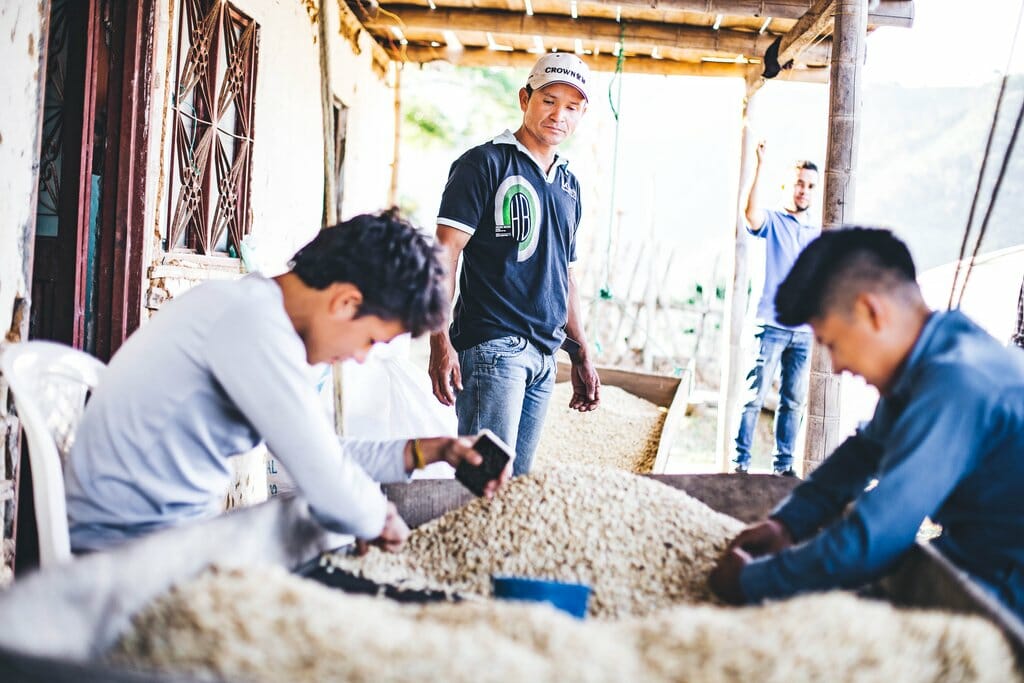 For us, the designation "specialty coffee" goes beyond a numeric score based on the quality, taste, and smell of roasted coffee (though that is a great start). Behind every great cup of coffee is a farmer who makes it special. At MistoBox, specialty coffee is about encouraging transparency and sustainability in an industry that hasn't always been fair to the people producing the crop. We like to give credit where credit is due; highlighting those who grew the coffee, how the coffee was grown, at what altitude, in what climate, and how it was processed and roasted. Specialty coffee tells you about the entire production chain, and when purchased is improving the lives of every person involved in getting it to you. With a MistoBox coffee subscription, you'll always be sent the highest quality of specialty-grade coffee from our amazing lineup of small-batch coffee roasters.
Once you've assured that the quality of your coffee is up to par it's time to improve your palate to better understand your own personal taste preferences. Simply put, specialty coffee is high-quality coffee with a story, and taste is the language that helps you unlock that story.
The MistoBox Coffee Tasting Series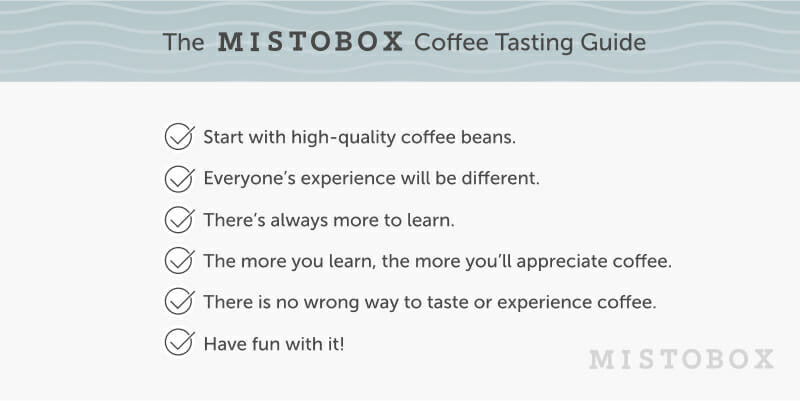 The aim of this specialty coffee tasting series is to empower you with easy to understand information that will increase your appreciation of whatever coffee you're drinking. Ultimately, it is you, the coffee lover, that will decide whether a coffee tastes good or bad. Let's be very clear- there is no wrong way to taste or experience coffee. We can, however, increase our appreciation for the beverage and uphold quality at every stage throughout the coffee's journey from seed to cup. In the coming weeks we will be rolling out our coffee tasting guide series that will deep dive into everything you need to know to better taste and appreciate your specialty coffee including:
With specialty coffee there is always more that can be learned and it's our hope that we can make it an easy, fun and delicious experience. Stay tuned.
**Craving a nice cold coffee drink? Check out our coffee cocktail recipes or our cold brew articles.
*** Get your Mistobox coffee subscription today 🙂