It can be hard to feel connected to coffee that's grown thousands of miles away, roasted on the other side of the country, and shipped directly to your door. At MistoBox we want to help you discover the best coffee in the world from the comfort of your home, but being removed from the process and the people that are responsible for the best coffee you've ever made can make it difficult to understand the environmental and social practices you're supporting. Hopefully, you can taste the difference in the final product, but we'd like to go beyond that and tell the story of one of our coffees- the San Sebastian Reserva from Olympia Coffee Roasting Co.– to show the ways in which you're supporting small businesses across the world and how that support leads to a better product and healthier communities.
The San Sebastian Reserva combines lots from 30 producers in San Sebastian De La Plata, in the Huila region of Colombia, selected from hundreds that were cupped. "Reserva" for Olympia means this coffee is a collection of 88-90 point coffees produced by the top tier farmers in the community. These producers farm at elevations above 1,700 meters on three hillsides surrounding the community of La Plata. After manual de-pulping, their coffee beans are fermented in tanks for up to 24 hours before being washed and laid to sun dry on parabolic beds. The San Sebastian Reserva project was created in 2009 with the intent to develop lasting, quality-focused relationships between farmers and roaster. In order to ensure that the roaster is working in tandem with the growers, the project incorporates a staff cupper in Colombia who works to select and send hundreds of coffee samples, fresh from the harvest, to Olympia Coffee to be cupped every week throughout the two growing seasons in La Plata. The Olympia staff also schedules multiple farm visits throughout the year to stay connected to what is happening on the ground.
Meet Amparo Pajoy
📍 Huila, Colombia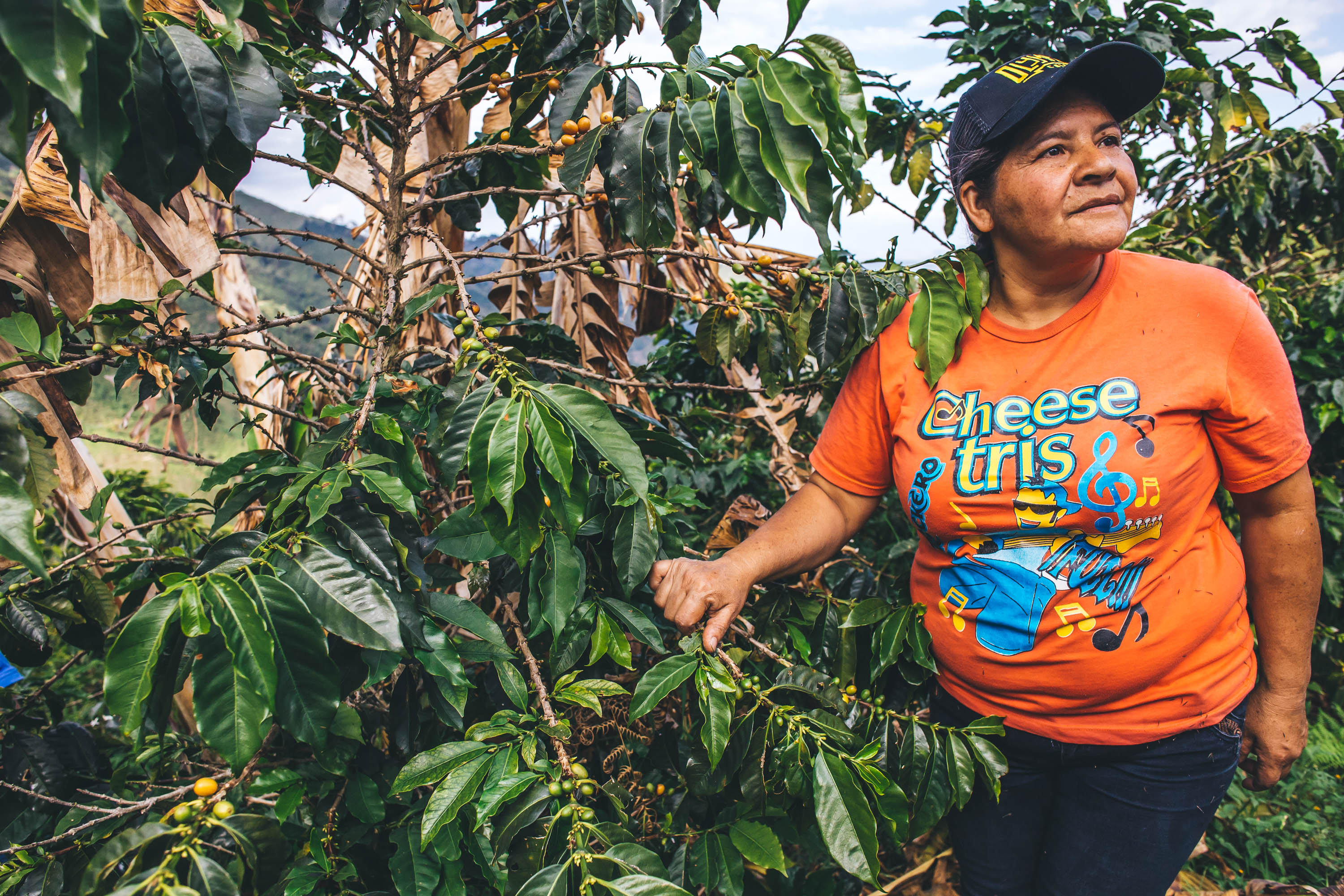 One of the primary contributors to the Reserva is Amparo Pajoy who has worked with the Olympia team closely for longer than any of their other producers. Amparo's entire life has been in pursuit of improving the quality of life for her family, husband Reinel and their five children. The Pajoy family grows the Caturra varietal of coffee at over 1,700 meters above sea level and Amparo is constantly trying to improve the quality of her coffee following the recommendations given to her by Olympia's export partner, Caravela, a team comprised of analysts and educators. She knows that by improving the quality of her coffee she can guarantee a long-term relationship with Olympia Roasting and receive higher prices, which ultimately will allow her family to continue to improve their quality of life. Multiple years of partnering with Amparo on her micro-lot quality coffee have seen big improvements to both her coffee and her family's opportunities. Through Olympia's investments and consistent business, Amparo has nearly doubled the size of their hand-built homestead and announced that they are in the process of buying their neighboring farmland where they one day hope to plant the famed Geisha varietal. When asked what she would like Olympia Coffee's customers to know, Amparo simply said: "That because of you, we are thriving!"
Amparo Pajoy has consistently improved her coffee year after year; however, not all of her coffee was scoring high enough for Olympia to label it as micro-lot quality this year. In fact, about 35 percent of her coffee was below 87 points, leaving it without a home in the Olympia line-up. This means much of her coffee would have been sold at a lower standard and price elsewhere to be blended into another coffee. Olympia didn't think that was fair, and it inspired them to create a new designation for trusted and valued partners like Amparo called the Calidad de Vida Quality of Life mark which is a separate classification used to differentiate it from a micro-lot or Reserva tiers, but allows for Olympia Roasting to still buy most of Amparo's coffee at a price way above what she could get from the open market. This guarantee helps Amparo and other producers like her to keep making long-term investments to improve the quality of their product and gradually increase the portion of her coffee that reaches the micro-lot and Reserva designations.
Meet Olympia Coffee Roasting Co.
📍 Olympia, Washington
Olympia Coffee Roasting Co. considers itself a quality-of-life company which aims to improve the lives of their farmers, staff, and customers through sourcing, roasting, and serving high-quality coffee. Since launching as a wholesaler in 2005, they've expanded to five retail locations (soon to be six by the end of the year) located in Olympia, Tacoma and Seattle, Washington and have 150 partner locations throughout the US. Olympia was recently certified as a B Corporation meaning that its trade standards, called Fair For All, have been verified by a third party and go beyond Direct and Fair Trade standards. In fact, Olympia at minimum pays their farmers double that of standard Fair Trade pricing. They also took the Transparency Pledge (along with several other MistoBox roasters), to commit to a common code for transparency in green coffee buying which can ensure a sustainable supply of coffee by working towards a living income for producers so they will continue to invest in the future of their businesses and land. By publishing all of the prices paid to the farmer and their employees for all of their coffees, Olympia adheres to the highest standards of social and environmental impact, enabling all the people from the 7 countries they sources from, including you as the customer, to make informed choices.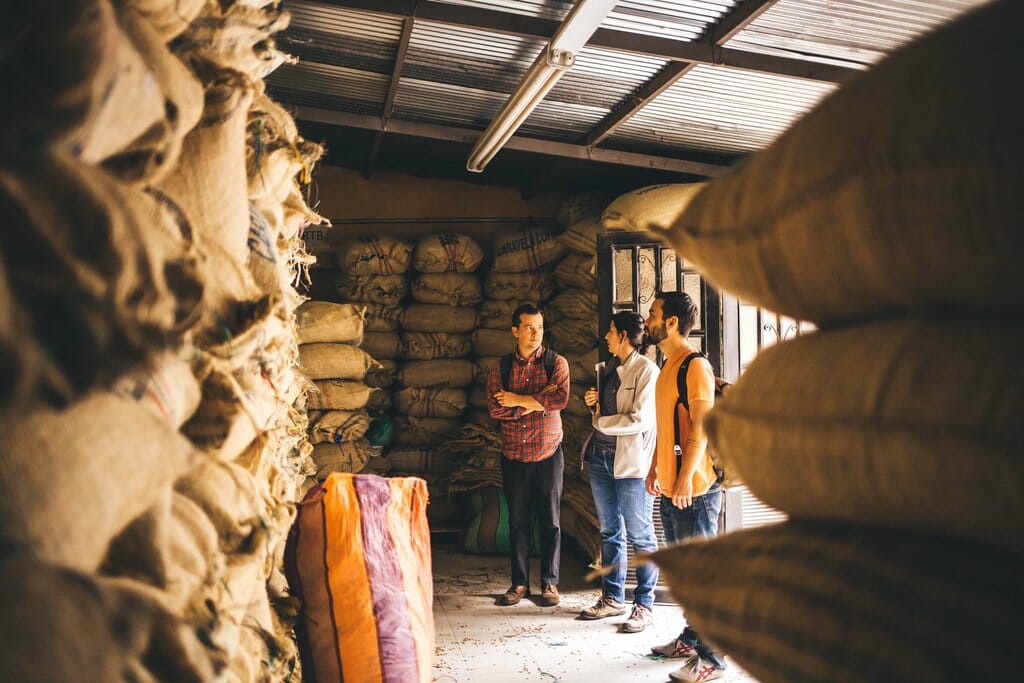 Olympia's mission to improve quality of life is not limited to the farmers they work with but include their 53 employees in the US as well. As an Olympia employee, you're guaranteed the following benefits:
75% Employer-paid healthcare coverage, including Medical, Dental, Vision and Life Insurance

Paid volunteer hours for employees to volunteer in their communities

6 1/2 Paid sick days per year

Paid Time Off for all employees starting at 2 weeks Per Year and 3 weeks per year for Management

A coffee benefits package including 1 free retail bag every week, free beverages for employees at all times, and a friends and family discount of 50%

Quarterly staff engagement events (bowling, origin night, parties, Movie Nights, etc)

Basic and advanced education classes for all staff (Minimizing Waste, Brew Theory, Advanced Extraction, Advanced Latte Art, etc)
All of the above has led to an 82.3% employee retention rate with an average tenure of 2.6 years. Olympia is a small business that meaningfully supports small businesses in the seven countries they source from and are creating better working conditions for everyone that helps get their coffee to you.
Meet MistoBox
📍 Remote Company

Did you know there are 5 people at MistoBox that make all your coffee dreams come true? We're a lean and distributed team that's dedicated to helping connect people who really care about coffee to the highest quality they can enjoy at home and the stories of the people who make it all happen like Amparo Pajoy and Olympia Roasting. We search high and low for the most talented roasters, sample their coffees, learn about their businesses and sourcing models, and choose the best ones to send to you based on getting to know your coffee preferences. MistoBox originally started as a school project and upon graduation, our co-founders found their way into the Shark Tank and received an investment from Mark Cuban in 2013. Since then we have focused on sustainable, long-term growth to provide the best possible product and experience to our subscribers. Along the way, we hope to share what we have learned with you, like the story of the San Sebastian Reserva, because we're always learning. Stories like this are meant to help enhance your understanding and appreciation of our favorite beverage and give credit to people doing the right things even when it's hard and less profitable. That's the kind of small business we want to be and the kind of businesses we want to keep working with. We look forward to serving up a rewarding future of coffee discovery for you and are profoundly grateful for your support.