Spyhouse Coffee first began in 2000 in the Twin Cities as a café in the Whittier neighborhood focused on ensuring quality, sustainability, and a commitment to producing the best coffee possible. In 2013 they began their own roasting endeavor to become Spyhouse Coffee Roasters and expanded their mission to source, roast, brew, and serve customers exceptional coffee while educating them on the entire process, from origin to cup. They've been one of our specialty coffee roasters since 2014, and throughout our 7-year partnership, they've delighted our customers and have been consistently recognized within the specialty coffee industry for their exceptional coffees.
Here's a quick run down of their more recent awards and accolades: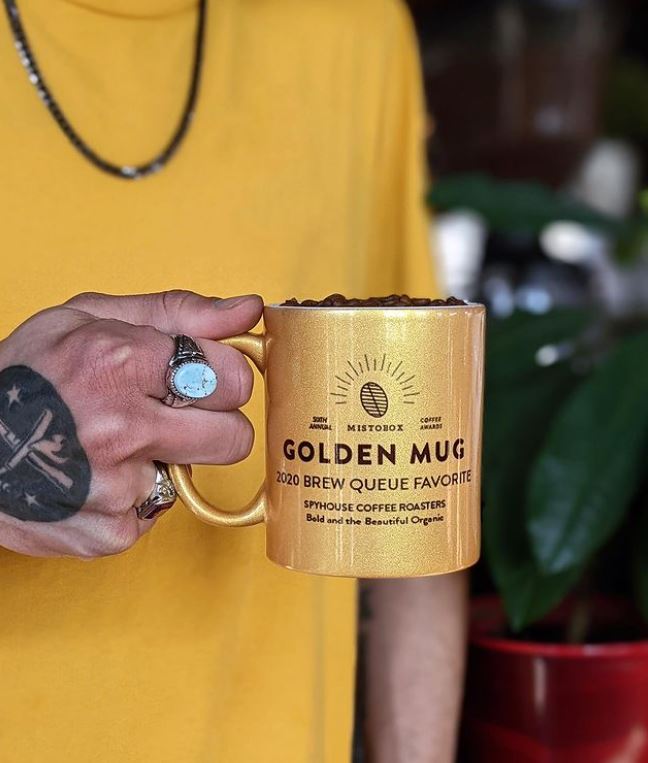 There's a lot to love about Spyhouse, and whether or not you've ever visited one of their 6 locations in Minneapolis or Saint Paul, anyone who tries their coffee becomes part of their community. Since Spyhouse has been a MistoBox roaster for so long we caught up with their new Head Roaster and Green Coffee Buyer, CJ Porter Born, to learn more about what Spyouse Coffee has been up to.
Starting in coffee early, CJ worked his way up from sweeping floors at his neighborhood coffee shop, to a barista, to the manager, and on to working as a roaster for various local companies. CJ's a veteran of multiple trips to origin where he's been instrumental in helping Spyhouse select some of the best single-origin and cooperative coffees. He's also a Level 1 SCA certified Barista, Roaster, and Green Buyer.
[MB] What's the most important thing that MistoBox customers should know about Sphouse?
[CJ] As a well-established roastery in the Twin Cities, we pride ourselves on quality. This comes into play at every step of the process – from sourcing green to shipping nation-wide, and everything in between. We are only as good as the coffee we serve, and we take great pride in what we buy, how we roast, and how our amazing café staff serves drinks to our customers. It's by cultivating these relationships with those that share our passion & vision that we're able to roast and serve exceptional coffee.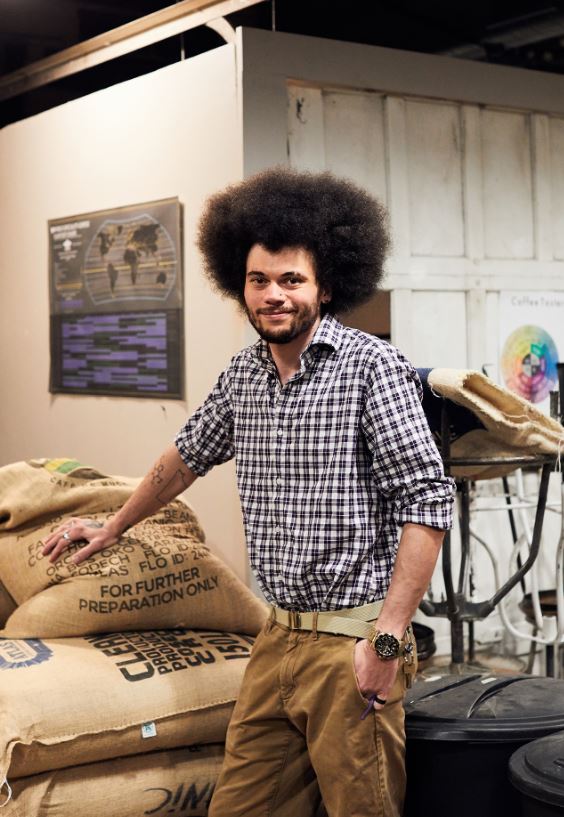 [MB] What brought you to specialty coffee and roasting?
[CJ] I have been in coffee my entire adult life. This industry has always fascinated me, but it all started with the aspect of community I found in my neighborhood coffee shop, the JS Bean Factory in Saint Paul. I spent more nights and days on that patio drinking coffee, observing people, making lifelong friends, and truly being a part of something for the first time in my life. Coffee is all about people, from the communities at origin to the communities surrounding every single café and every regular that makes that café so special and successful. It's a fascination that gripped me early on, and fortunately has not let go yet. There's always more to learn, and I aim to never stop growing or networking for as long as I am able to be an active member in this community I love so much.
[MB] If the Spyhouse brand was an emoji- what would you be and why?
[CJ] 💯 Because that's how we always try to keep everything. I started in this industry sweeping floors at my local shop, then worked up to barista, then manager, then roaster, and I never looked back. A lot of people took a lot of chances to give me the opportunity to prove myself and let my skills and work speak for itself. Through those opportunities, I have been able to forge my own path, and now have a self-developed skill set that allows me to do what I love for a living. I want to share that passion with everyone. I want to share that energy with anyone who wants to talk coffee or "origin story." This industry is bigger than all of us, but it is for all of us. That's a beautiful thing, and I want that level of care and excitement and pride to be represented in every single cup of coffee that comes from our roaster.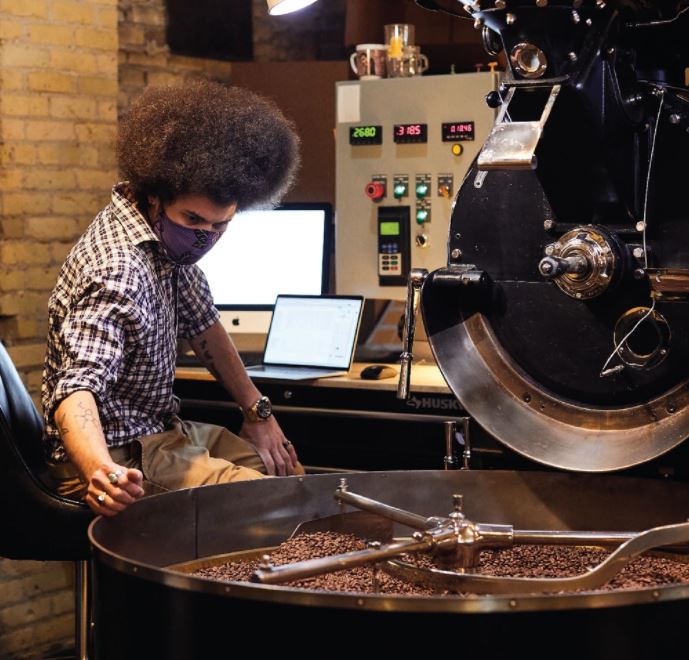 [MB] Tell us about being based in Minneapolis. What's special about where you call home?
[CJ] Minnesota, in general, is such a special place, but the Twin Cities (Minneapolis and Saint Paul) are just next level. I know everyone has hometown pride, but it's a little different here. When the snow falls and people get their cars stuck, it never ceases to amaze me how many people always jump out to help push strangers out of the snowbanks. The sense of community up here is so strong, and even more so after the murder of George Floyd and the riots in the following weeks. We came together and made sure we took care of each other. From raising money to help out business owners sort through the damage to rounding up and delivering food to those in need after losing their jobs or access to their local grocery store. Minnesota stood up. Minneapolis came together and showed the strength in the people, and the power of the community. I've never been more proud to call this place home.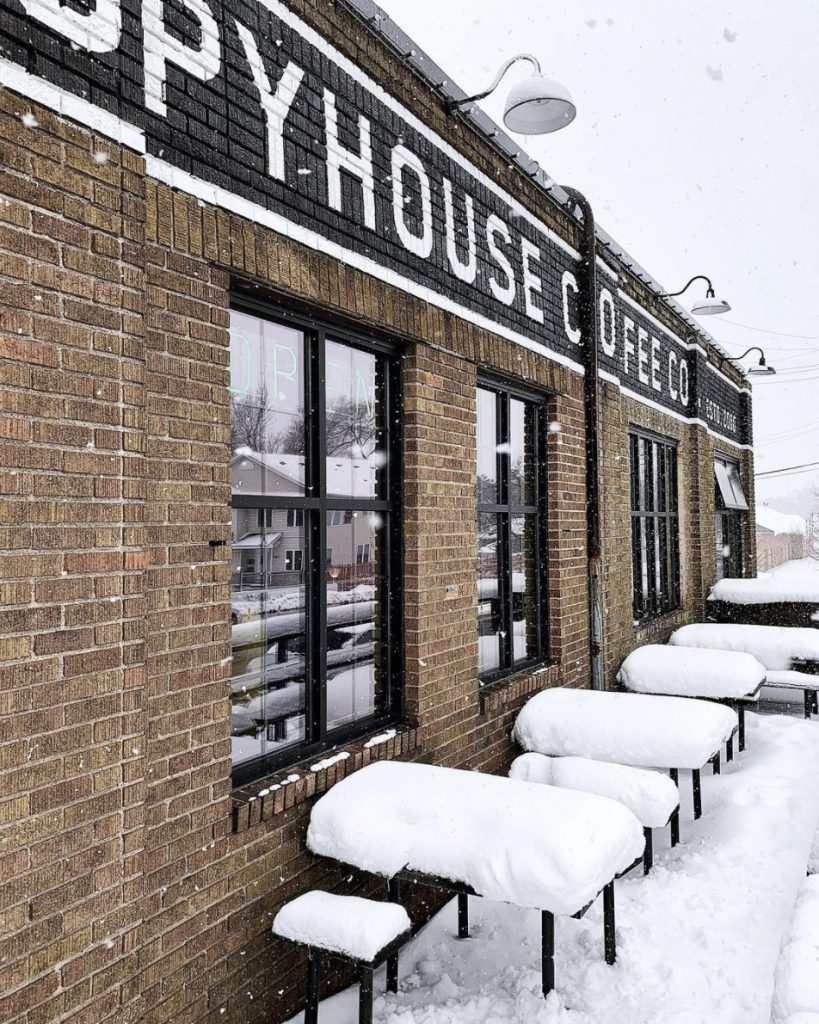 [MB] How do you go about sourcing green coffee? What do you look for?
[CJ] When I go about sourcing green, I like to start with my importer friends who I know and trust to have the best quality coffee as well as the most ethically sourced coffee. This is incredibly important to me. Coffee is all about people, from the farmers to the pickers to the people who process and bag it- and then to the importers and roasters- and finally to the consumers. I want to know the farmers who produce the coffees I bring in whenever possible. I like to know that they are making good money from it and that they all have their needs met within their communities. We are willing to pay more to make sure farmers are receiving more, and we like to buy repeat lots from the same communities year after year to develop long-lasting relationships. Without the hard work of the producers, I have no job, no purpose. It is always my mission to tell their stories to the best of my ability and ensure that their hard work is properly represented within every cup.
[MB] What issue in coffee do you care about most?
[CJ] The issue I care about the most with coffee, is being able to ensure the people responsible for producing and processing the coffee all are making more than a fair wage. After being at origin in 4 different countries (and counting) I have gained a new appreciation for the amount of work and care that goes into every single coffee bean that enters my green storage area. Having been at the farms, having been a guest in their homes, and having toured their farms and met their families, I have an element of personal attachment to all of these people and a great level of respect for the amazing coffee they produce. It's very important to me to not only roast and represent these coffees as well as I possibly can, but also to ensure that I can get these farmers the most money per pound as well.
[MB] Who in coffee do you look up to/follow?
[CJ] I have been incredibly fortunate in my coffee career thus far to have been around such amazing people, especially in the local scene. Someone I very much look up to and respect, and am grateful to call one of my good friends is Joe Marrocco. Joe and I formally met when he was our contact at Café Imports in Minneapolis. Through networking at various coffee events and both being Saint Paul guys, we kept in touch and would hang out and chat outside of work. I've learned so much from him about this industry and am so grateful to have had him in my corner all these years. He's a humble man, but he's one of the best guys I know and I owe a lot of my professional development and resources to him!
We've worked with Spyhouse for years, but have you given them a try yet? A great selection of Spyhouse specialty coffees is available in our shop or get your Mistobox coffee subscription box. Learn more about specialty coffee on Mistobox tasting series.