Goshen Coffee is currently roasting an exceptional offering from the multi-award-winning Colombian coffee producer Diego Bermudez. We haven't been able to put this one down! Tropical and citrus-like fruit flavors are met with fragrant floral qualities in a lively, complex cup of coffee. It will only be available for another month, so if you're interested, we'd recommend getting it now.
About the producer:
Diego Bermudez is truly a mad scientist, dedicated to exploring the limits of coffee and flavor on his farm, El Paraiso, which is located in the village of Los Arados in the Cauca department of Colombia. His latest creation, which he has named P-02, is a double-washed thermal shock fermentation that requires extreme precision and patience. This particular lot of coffee is 100% Castillo variety and is grown upwards of 1,930 meters above sea level.
About the process:
First, the coffee cherry is stored in tanks with relief valves at a temperature of 19° Celsius for 28 hours. The coffee is then de-pulped (skin is removed) and thrown back into the tanks for an additional fermentation step with its mucilage (fruit) still intact. Here the coffee sits for another 40 hours at 21° Celsius before receiving a thermic shock wash which is divided into two phases: The first rinse of the coffee is complete with the water temperature at 40° Celsius and then again at 12° Celsius. Finally, the coffee goes through a controlled drying phase for 28 hours at 42° Celsius and a relative humidity of 25% until reaching bean moisture between 10% and 11%. More on how processing affects the taste of coffee.
We're tasting:
Citrus, orange, orange blossom, peach, mango, passion fruit, honey, lychee, strawberry, raspberry, plum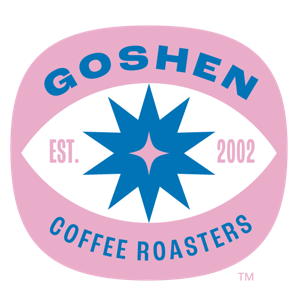 "Unbelievable nose on this one" -Aaron
"Wow, tropical fruit is right. When hot, I was getting an enjoyable but somewhat generic fruit flavor. As the coffee cools, it completely transforms into something different. A little surprising for a washed coffee, and it certainly stands out. Very well done." -Eric
Goshen Coffee Company was founded in the small college town of Edwardsville, Illinois, in 2002. Founded on the principle that great specialty coffee should be accessible to all, Goshen takes pride in being a family-owned and operated business and treats everyone as part of the family.

Feel the Energy because Goshen is about flavors with feels. We're talking about the positive vibes that come from having amazing coffee and good people to share it with. Take some time to replenish the kind of energy we could all use a little more of – just call it Goshen!