As we continue to celebrate Women's History Month, we're shining a spotlight on the women who are driving change, promoting sustainability, and fostering inclusivity in the coffee industry. We caught up with Leticia Pollock, a coffee industry veteran with well over a decade of experience.

In 2010, Leticia and her husband Joel established Panther Coffee in Miami's Wynwood neighborhood with the objective of sourcing, roasting, and preparing the best coffees worldwide, creating a mutually beneficial transaction for everyone involved, from producer to final consumer.

Q&A with Leticia Pollock

[MB] What made you want to pursue a career in coffee? [Leticia] I come from a large family of great Brazilian home cooks, and we love tasting great food and everything else! As a teenager, I debated what to do for school and work. In looking at all the options, I contemplated what my day-to-day would look like, reflecting on how much and all the ways it would vary from one occupation to another – I decided I wanted to spend my days doing fun, upbeat work. I wanted a career that brought myself and others joy, and I wanted flexibility and variety while still maintaining mental bandwidth to pursue other personal and social interests important to me. [MB] Did you have any background or education in coffee? [Leticia] Yes, I went to college in Brazil for Gastronomy – the study of the relationship between food and culture. During that time, the history and rich culture of wine and coffee intrigued me. So I decided to start working in both industries – and it was so satisfying! Since then, I have learned through formal classes, peers, bosses, mentors, and the industry itself. After Panther Coffee started taking off, around the same time I had my wonderful daughter, wine became a hobby, and all my professional focus now revolves around specialty coffee. [MB] What was your experience as a woman getting into the coffee industry? [Leticia] I love our industry and feel like I belong after 20 years! I'd say my experience was dynamic and thrilling! Many places, teachers, mentors, and bosses throughout my life were generous and kind, and I am thankful every day for all I learned and experienced with them.

Of course, there were numerous times when I was patronized, discriminated against, ignored, and worse – but I am committed to giving very little mental energy and time to those interactions (and people). So, I became good at quickly moving on – as I know it has nothing to do with me – and focusing on positive, exciting stuff and people, good opportunities, how I can help others, how I can improve myself, doing my best, etc. As I formed more and more connections with like-minded professionals, things only got better.

I love making the best of my own strengths while partnering with people that are better than me where I lack. It sounds obvious and simple, but it takes intention and effort. Finding a group, a team that works well with you, is essential, in my opinion. Working on mental strengthening and bouncing back from setbacks has always been paramount to me.
[MB] How do you source your coffee? What do you look for? [Leticia] You'll always hear us saying, "Taste is boss" – It's got to taste clean and delicious! But deliciousness being met, Panther Coffee focuses on sourcing coffees from producers with whom we have a personal relationship. When we select a coffee to roast at Panther, we aim to uphold our mission of sourcing, roasting, and preparing delicious coffees while creating a relationship that benefits everyone involved. I grew up near specialty coffee farms in the world's largest coffee-producing country and have known some of the producers we work with since I was a teenager. Then little by little met so many more once I got more involved in the coffee industry. Then my partner Joel has extensive experience as a roaster and working with specialty coffee importing, leading to befriending many producers throughout the years. We are constantly expanding our network of producers and love tasting all of their new projects and experiments. [MB] What's your local coffee scene like? Tell us about Miami. [Leticia] Since Panther Coffee started roasting in the Wynwood neighborhood as the first specialty coffee company in Miami, other roasting companies have opened in town, and now we have an exciting group of cafes and roasteries, both local and transplants. The Miami coffee scene is rich and diverse. One distinctive characteristic is that we have many Cuban-style cafes, more than anywhere else in the country! [MB] Tell us something fun or unique about Panther. [Leticia] Our long-lasting relationships with coffee producers are special and unique. The team at Panther Coffee has worked with some of the same producers since 2004. Our collective relationships built slowly over the years have served us well. We were in a good position to get started with a very solid roster, with the ability to buy green with the exact profile we needed/wanted, and we built it from there: Returning to buy the coffee year in and year out and the producer meeting us there with a solid delivery has helped solidify these relationships. We are a known entity, and so are they. Honestly, it's been a really fun and gratifying part of our journey.

Another fun and unique aspect of doing business in Miami is the sheer volume of visiting coffee producers at our locations. Many producers, if they possess the resources, love love love to come to Miami and Orlando post-harvest, and we are on their list to visit. We've met quite a few people who grow coffee that way. There were even a few times we literally bought bags of green coffee out of the trunk of someone's car!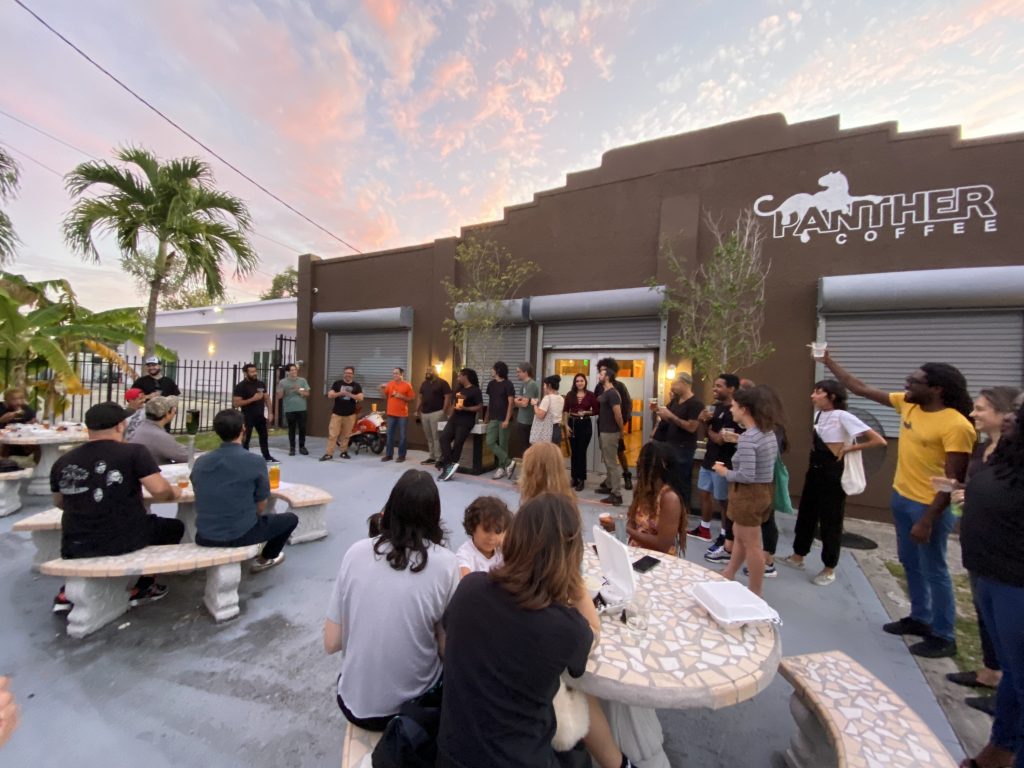 Like us, you're probably obsessed with Leticia and Panther Coffee by now. We're convinced she's sourcing and roasting some of the best coffee out there. Show some love by adding Panther Coffee to your brew queue this month!
---
Don't forget to try coffee from other female-owned roasteries too!