About Cartel Roasting Co.

Cartel Roasting Co. has been sourcing, roasting, and brewing exciting coffees from around the world since 2008. Founded by Amy and Jason Silberschlag in Tempe, AZ, Cartel was built on the idea of fostering community through coffee. They take pride in every step of the process, from sourcing green coffee to roasting and brewing it to perfection. Today, Cartel Roasting Co. has 11 retail locations between Arizona, California, and Texas.

In celebration of International Women's Day and Women's History month, we caught up with Amy Silberschlag to discuss her experience with coffee and the industry.

Q&A with Amy Silberschlag

[MB] Why did you get into coffee in the first place? What made you want to pursue a career in the industry? [Amy] Creating a space and place for people to gather was what initially interested me. Once we started down the rabbit hole of coffee, we fell in love with how simple yet complex the process is from seed to cup, the amount of hands involved in growing, harvesting, sorting, roasting, brewing, and then serving the cup of joy to a human being is mind-blowing. [MB] Did you have any background or education in coffee?

No; just an idea of working together to create community. Honestly, I didn't even like to drink coffee – I just saw how magical it was to bring an incredibly diverse group of people together.

[MB] What was your experience as a woman getting into the coffee industry?

I learned that there are a bunch of incredible women in coffee and hospitality in general. Finding ways to encourage, collaborate, and support each other through the ups and downs is awesome!
[MB] Tell us about your city. What's your local coffee scene like?

Our coffee scene is fantastic! We started out 15 years ago with the philosophy that "a rising tide raises all ships". By providing our customers with a memorable experience – perhaps serving them their first Chemex, sharing some home brewing knowledge, or even their first light roast, single-origin cup of coffee – we hoped to awaken their curiosity to the finer side of coffee and that they would take that curiosity with them throughout their life, which would encourage additional coffee experimentation, discussion, community, etc.

[MB] How do you source your coffee? What do you look for?

We have grown a beautiful relationship with our main importer, Mercanta, over the years. We work to highlight single-origin coffees that are interesting and delicious and can also be a daily drinker. We also try to find a variety of coffee to fit our customers' taste profiles as well as price point.

[MB] Tell us something fun or unique!

Well, the fun comes from working alongside amazing people who are all aligned with our Just Cause:
"At Cartel Roasting Co, we imagine a world where everyone is equal; where community and business meet for good and provide safe space for individuality and human connection; and where opportunities are fostered in order to collectively contribute to healthy change in our communities."

[MB] What are you sipping today?

Maria de Dota Peaberry from the San José province of Costa Rica.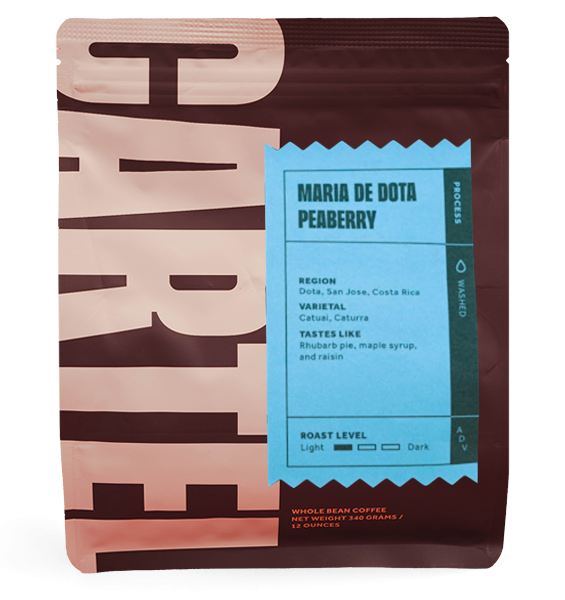 Be sure to check out our article highlighting International Women's Day to learn more about the women that farm and process our coffee.
Don't forget to try coffee from other female-owned roasteries too!