'Tis the season for holiday coffee blends! Whether you're visiting your in-laws for the pre-pre-Christmas dinner or attending an uproarious holiday jamboree, it's customary to bring some spirits and a bag of fresh-roasted holiday coffee. Coffee to pair with the glazed ham, with the pecan pie, and everything in between! Holiday Blends are as delightful as a Peppermint Mocha and way easier to brew.
So here it is – your definitive list of Holiday Blends. Pick one, pick them all, and buy soon!  These will be gone faster than you can say Kris Kringle.
Verve Coffee Roasters – Holiday Blend 2015 – This coffee is a nod to all those Holiday desserts you can't get enough of. The rum cakes, the nut balls, the sugar thingamajigs. No matter, this coffee pairs perfectly with all your sweet treats.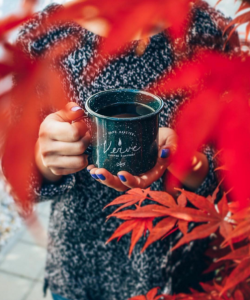 Passion House Coffee Roasters – Winterlude Blend – "A bright and juicy blend that celebrates the joy of the season." This is fruity and floral coffee, good for pairing with Grandma's fruit cake, or maybe, instead of Grandma's fruit cake (we understand).
Ruby Coffee Roasters – Cheers – A rich cup with notes of of mulled wine and festive spices. Switch to this harmonious blend with when the actual mulled wine starts to go to your head. Cheers!
Parisi Artisan Coffee – Holiday Blend 2015 – "Notes of winter fruits pomegranate and cranberry balance with smooth, semi-sweet chocolate." The perfect cup to wake up all your favorite santas – a little sweet and a lot of smooth.
Ceremony Coffee Roasters – Holiday 2015 – Ceremony brings us their annual blend: Full, rich, and fruity, this enlivening brew is perfect all holiday long! Start drinking now and continue into the New Year.
Want to learn about the best coffee in San Francisco? Or learn how to perfectly brew coffee at home!