The most challenging part of finding a great cup of coffee in San Francisco is dealing with the overwhelming amount of choice that you have. In many cities, Specialty Coffee is still somewhat on the fringe, but in San Francisco, it is nothing short of a citywide obsession. From famous shops such as, Equator, Sightglass coffee and Saint Frank Coffee. Also, it's not just hipsters (although there are plenty of hipsters) that have discovered third wave coffee shops. You'll also find tables full of techy entrepreneurs, chatty families, and active weekend warriors all enjoying Specialty Coffee at its finest.
I've lived in Bay Area for two years, and I've visited a lot of amazing coffee shops. It was difficult to choose just a handful of favorites, but I've narrowed it down to my top six picks. If you're lucky enough to spend some time in San Francisco and want to hit some great cafes, this is a good place to start.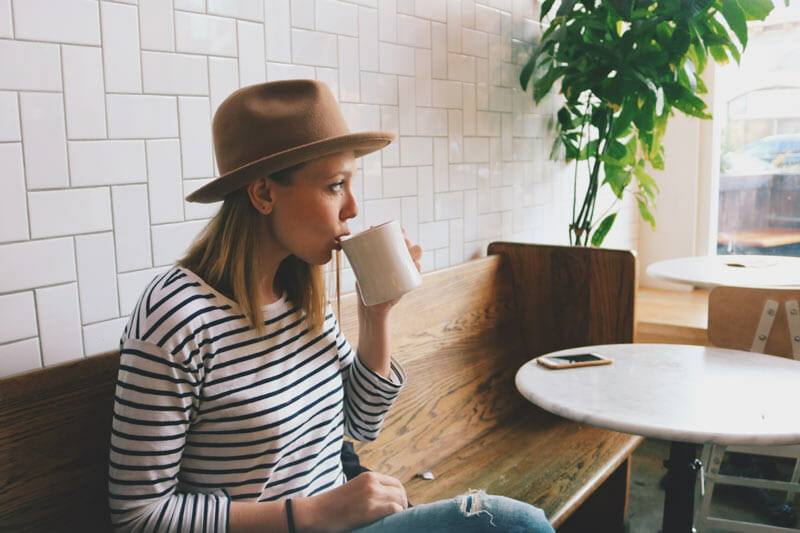 *It's worth mentioning that great cafes in San Francisco are no secret, so lines can often be long (but totally worth it). Another commonality is that most of the cafes on my list don't have wifi. There is an intense focus on the coffee itself and the social interactions that can happen around it. Although that doesn't stop people from partaking in BYOI (bring your own internet) and tethering to their phones' internet.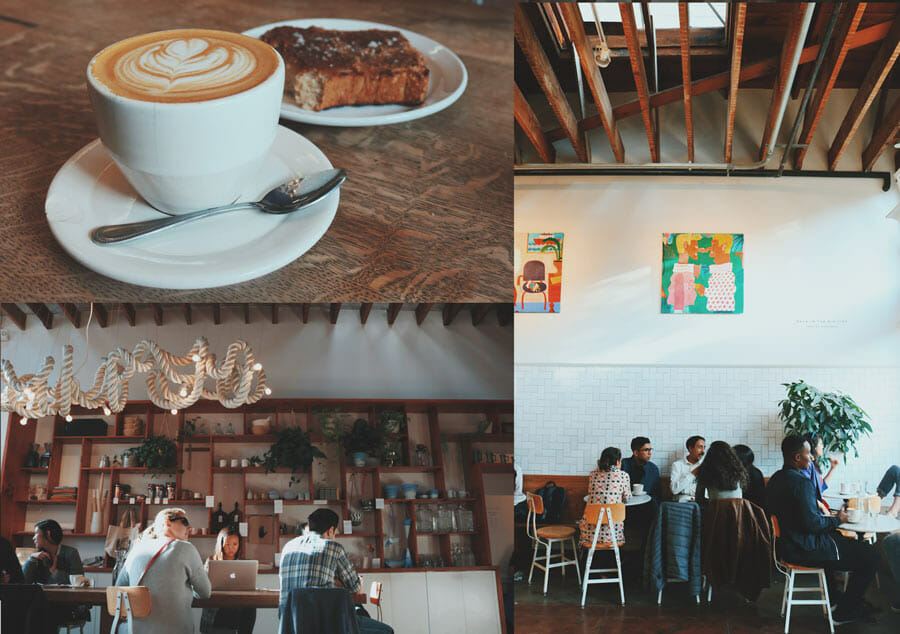 The Mill is my favorite of the three Four Barrel Coffee locations in San Francisco. As you walk into the beautifully minimalist space, you're greeted with the rich aroma of coffee intermingled with fresh baked bread. Four Barrel has a great reputation for sourcing and roasting delicious coffees, so it's no surprise that you're going to get some amazing coffee here. The Mill has partnered with Josey Baker Bread to serve the somewhat notorious $4 slice of toast. While a bit expensive, a rotating menu of artisanal toppings piled on a thick slab of fresh baked bread makes it totally worth it.  
Address: 736 Divisadero St
___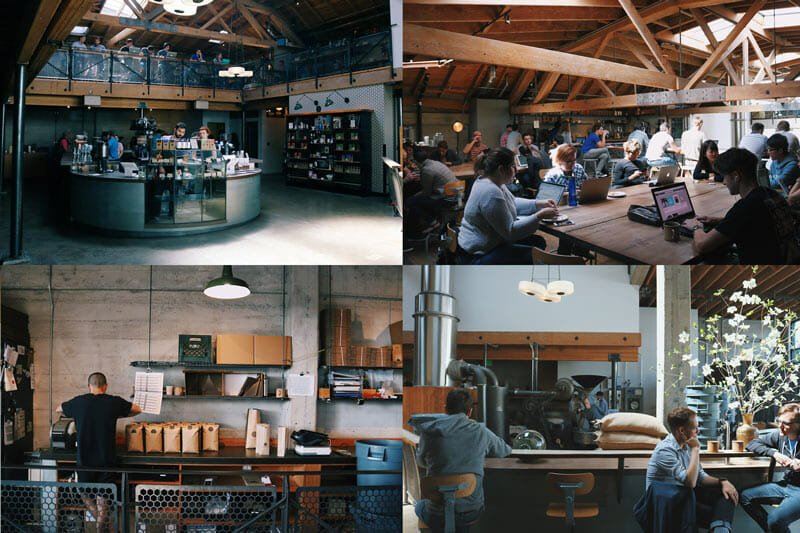 Sightglass Coffee Shop
Sightglass coffee on 7th street location tops the list as my favorite cafe in all of San Francisco. The space is awe inspiring with sweeping high ceilings and a sophisticated industrial aesthetic. Sightglass coffee is yet another local roaster with a focus on quality practices, so you know the coffee is going to be delicious. The thing I love the most about space at sightglass coffee, is that you get a peek at their entire operation. There are sacks of green unroasted beans waiting to be roasted in the PROBAT coffee roaster that greets you when you enter the cafe. Along another wall you can see the fulfillment process as workers busily fill up bags of Sightglass coffee. Baristas are pulling shots of espresso at the coffee counter that floats in the middle of the massive space. Upstairs on the mezzanine level there is an affogato bar, a training room where they hold community classes, and massive community tables where patrons happily sip on the final product.
Address: 270 7th St
____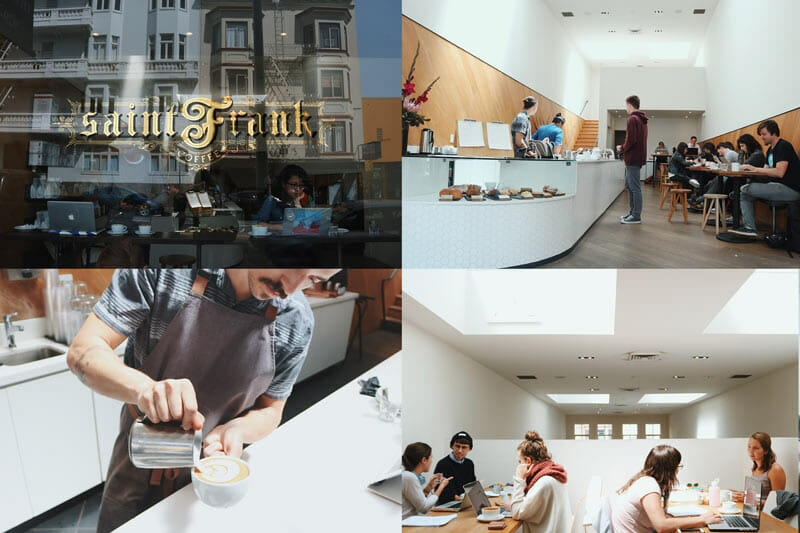 Saint Frank Coffee is helmed by longtime Ritual veteran Kevin "Tex" Bohlin, and they team up with Ritual to source and serve a handful of excellent exclusive coffees. The space is beautiful; the ultra minimalist white interior is washed with natural light from four large skylights overhead. A long oak counter runs the length of the cafe behind which exceptionally friendly baristas serve up coffee and espresso drinks. If you want to get some work done during the week (they don't have wifi on weekends), there are nice large community tables in the loft area up the stairs tucked away from distractions. Side note: I've never had a pastry here that I didn't like.
Address: 2340 Polk St
____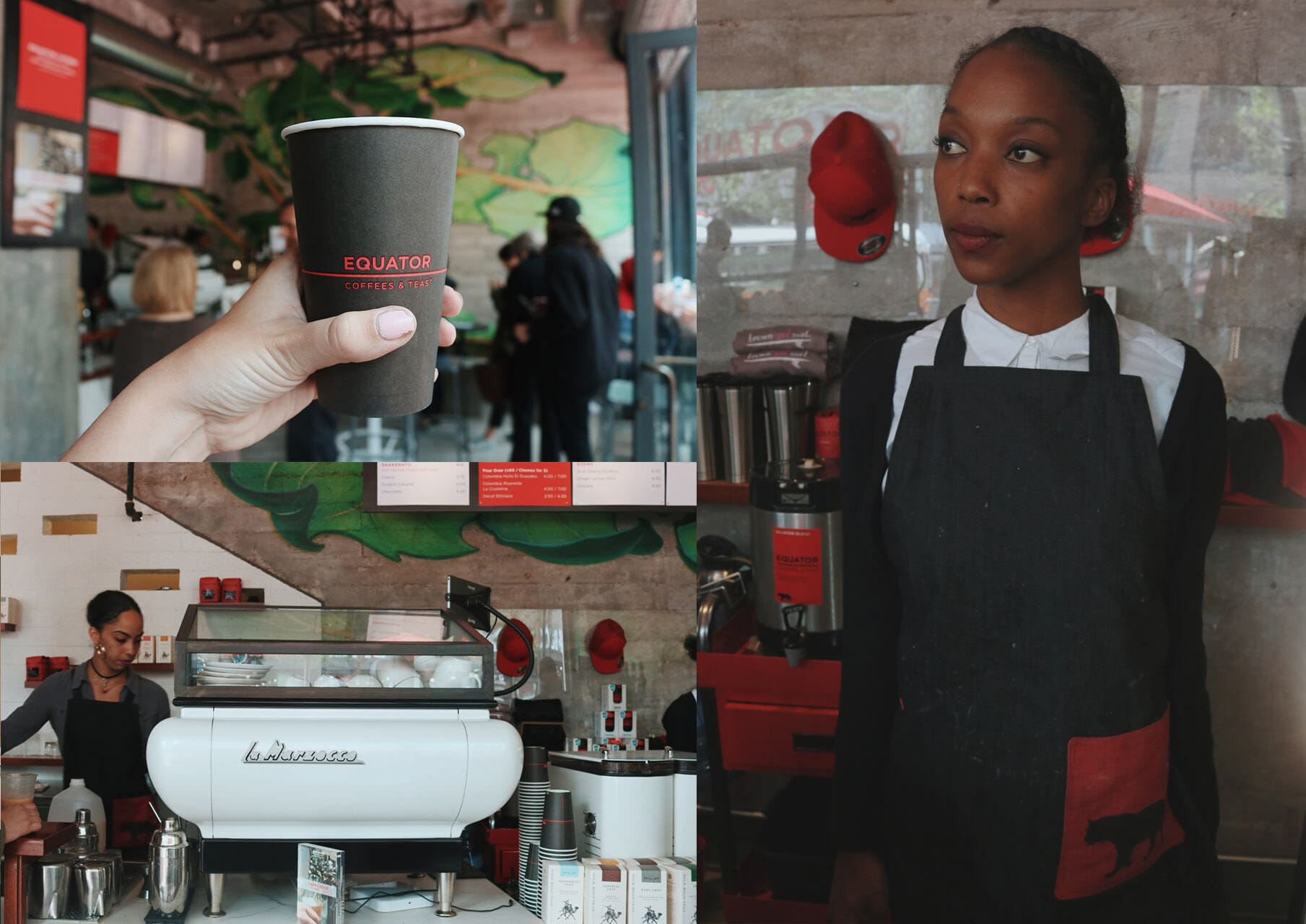 Marin-based Equator Coffees & Teas is the only MistoBox partner roaster to have a cafe location in San Francisco, so we think they have some of the best coffees around. Equator has an inspiring mission to create a positive impact from their farmers' communities to their local cafés. There's a lot to see in this vibrant space from the green leafy mural on the wall to baristas busy behind the bar to the chatty customers filing in through the front door. Its Mid-Market location makes it a convenient place to grab a cup of coffee to go, but I'm personally a fan of taking my coffee to enjoy on the umbrella covered patio. Pro Tip: If you're ever going through SFO, you can also find an Equator cafe in terminal 2.
Address: 986 Market St
____
Mazarine is the only multi-roaster cafe that made the list, and it's also one of the only places in the city to get iced coffee served on Nitro, which creates a unique creamy texture that's hard to beat. Located just around the corner from our office, I often find myself spending time at this cafe. They consistently have a great offering of coffees from top tier roasters, including some MistoBox roasters. With an abundance of delicious coffee, a couple beers on tap, a smattering of light food, and free wifi, it's a great place to hunker down for an entire afternoon to work or relax.
Adress: 720 Market St
____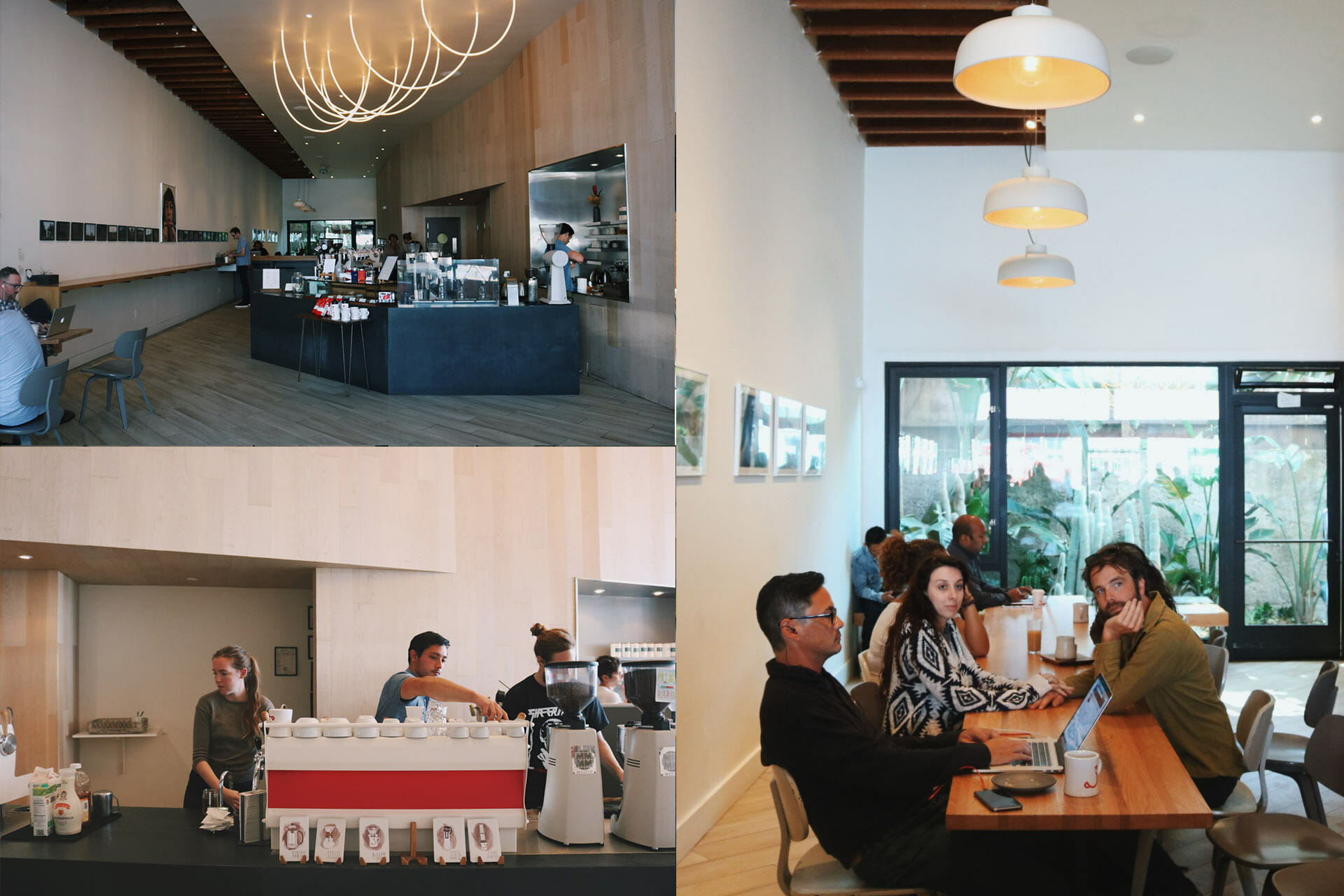 Ritual Coffee has been a San Francisco institution for more than a decade. When you walk into Ritual's Valencia Street location, you might think you're walking into an art gallery, not a coffee shop if it weren't for the rich smell of coffee in the air. Details like the light installation over the coffee bar and the succulent garden behind a wall of glass in the back make the space truly special. With limited seating and no wifi, it's a beautiful place to enjoy your coffee but not one in which you'll linger. Although this is my favorite Ritual cafe, there are four other locations around the city to get your Ritual fix, including their newest cafe that just opened this week on Haight Street!
Address: 1026 Valencia St
**Check out our awesome coffee cocktail article or our Guide to Popular Espresso Coffee Drinks and the perfect cold brew cup!
____