Last week the Coffee Gods aligned in Atlanta at the 2016 SCAA Expo, a combination of tradeshow, competitions and lots of coffee. This annual event brings together the world's best roasters, baristas, producers, importers, coolest new products and everyone and anyone who lives and breathes the coffee life. We were really excited when we found out how many of our coffee friends competed and took home some really prestigious awards. Here are some of our favorite competitors from our incredible roaster partners!
Barista Competition
Baristas are put on the spot to show off their years of coffee expertise and barista know-how. The competition involves preparing and serving espressos, cappuccinos (or other milk based coffee beverage), and a personally designed signature beverage that highlights a particular coffee. If you've ever seen Best In Show, it's a little bit like that – for people who take coffee really, really seriously. During their 15 minute presentation, competitors typically deliver a rehearsed script describing the coffee, communicating what the judges are going to taste in each course, and often times a personal dissertation on a subject within the industry they feel needs to be addressed. This is coffee's highest level of competition and winners of these events typically go on to forge lifelong careers consulting, opening roasteries and coffee shops, and even being hired to train other barista competitors looking to take their game to the next level.
2nd Place – Andrea Allen, Onyx Coffee Lab – Columbia Las Margaritas Pacamara Natural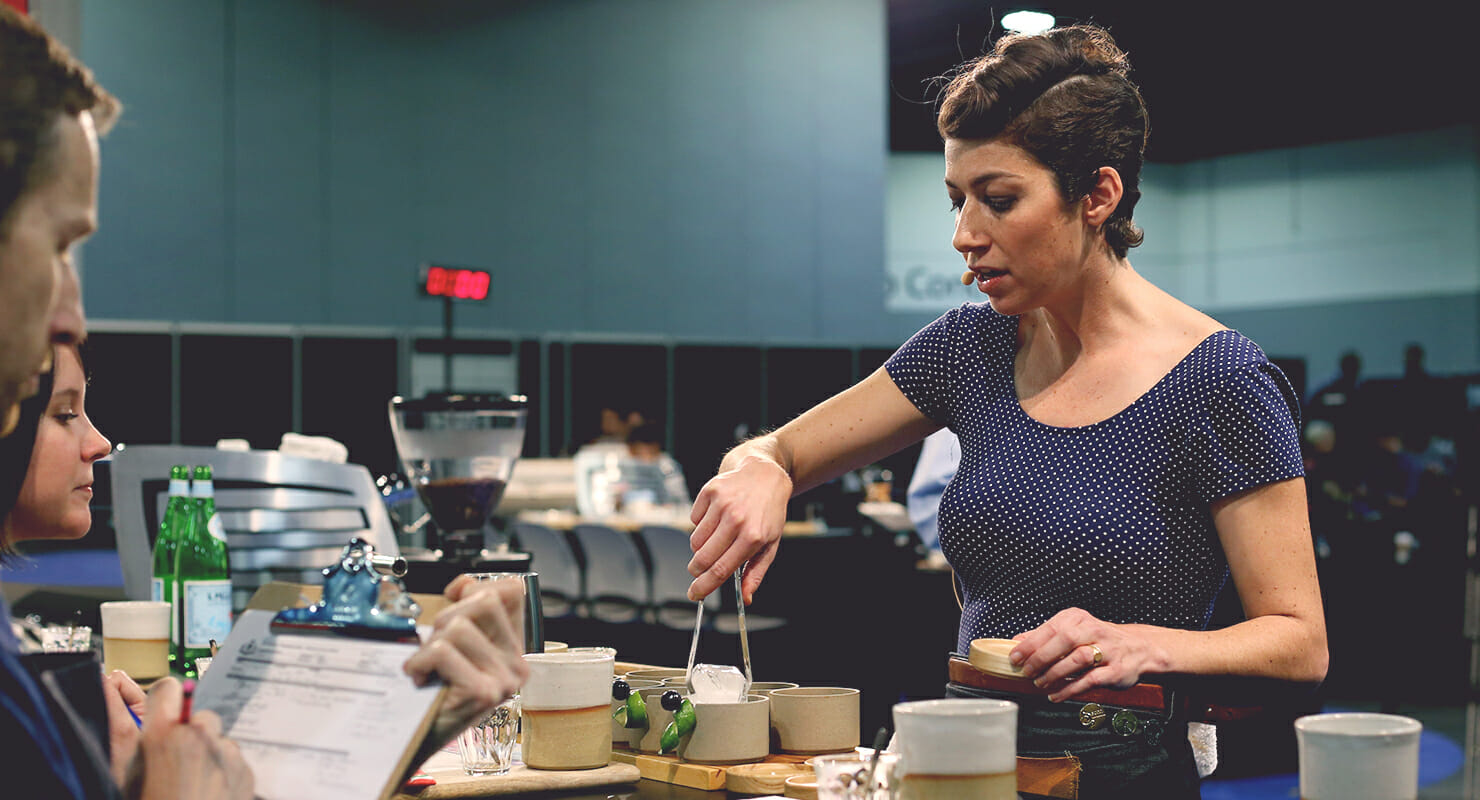 3rd Place –  Devin Chapman, La Colombe Los Angeles – El Faldon from Huila, Colombia and Matilde Mahogany from Minas Gerais, Brasil
Other greats who showed their Barista Skills: Michael Harwood from Ceremony Coffee Roasters & Andrew Mccaslin from Kaldi's Coffee Roasting Co. – Semi Finalists, Kathie Hilberg from Spyhouse Coffee Roasters & Talya Strader from Equator Coffees & Tea- Round 1 competitors
Brewers Cup
The Brewers Cup competition highlights and celebrates the fine art of manual brewing. All competitors are first judged in a compulsory round, where they are tasked with brewing the same coffee to see who can brew it the best. Those that qualify for the next round have 10 minutes to brew and present a coffee of their choosing to the panel of judges. Great emphasis is usually placed on sourcing the best coffees these brewers can find, like the prized Gesha variety known for its incredibly light, delicate, floral and sweet qualities. Like the barista competition, these competitors are also judged on the presentation they deliver alongside the coffee, talking about the origin of the coffee, highlighting the roasting process, how they intend to brew the coffee (and why) and what the coffee is going to smell like and taste like.
2nd Place James Tooill, La Colombe Philadelphia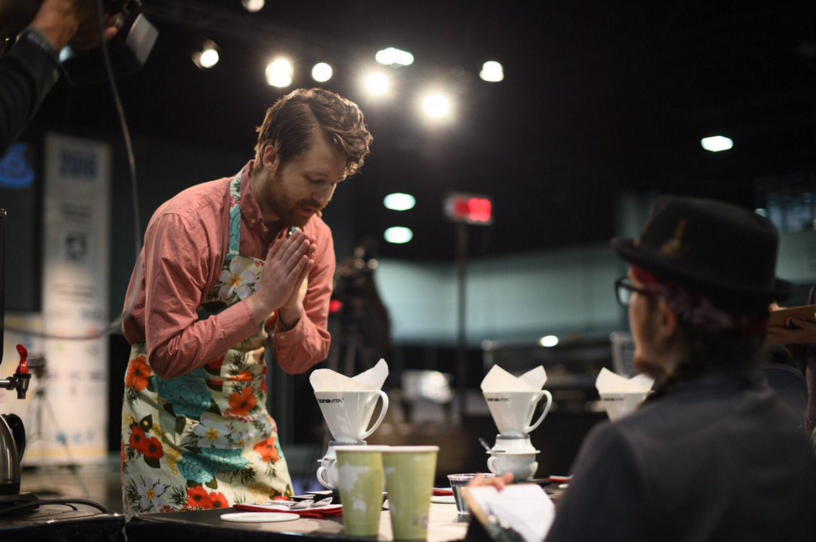 4th Place Blair Smith, Augies Coffee Roasters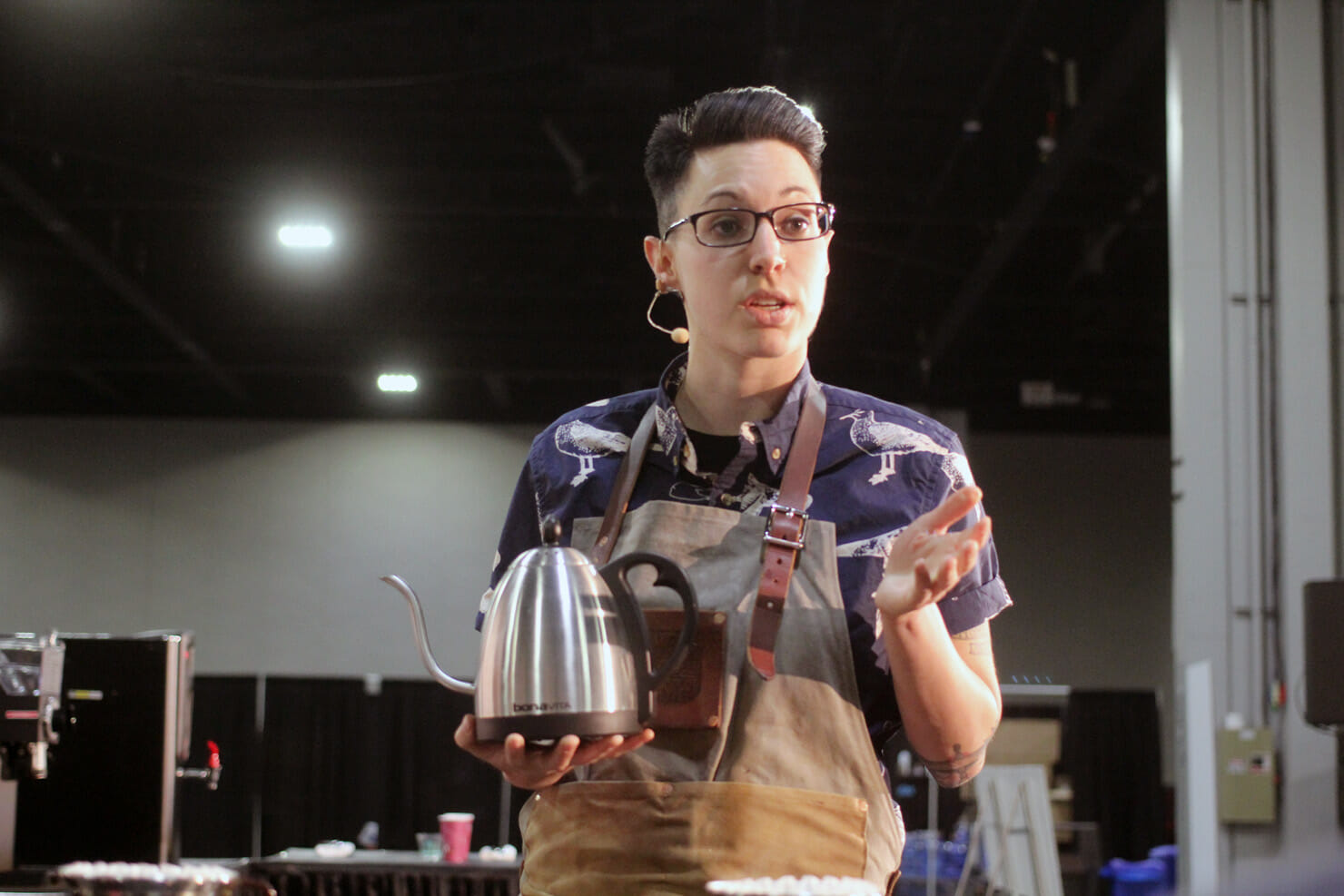 Shout outs to these great competitors: Matt Foster from Kaldis' Coffee, Robert Colascione from La Colombe, Taylor Mihaljevic from Square One Coffee, Akaash Saini from Equator Coffee and Teas and Dylan Siemens from Onyx Coffee Lab
US Roaster Championship
This competition Represents and highlights the nuanced and difficult skill of roasting Specialty Coffee in a way that highlights the coffee to its fullest potential. Each competitor is given the same coffee to roast prior to the competition and submit their best roast that they think best demonstrates that coffee's inherent quality. All competitors' coffee is blind tasted and scored and ultimately narrowed down to the top 6. These finalists submit their own coffees they've sourced and roasted with the utmost care, the coffee that earns the top score is named the winner. We are especially excited for this accolade because it goes to show that our subscribers continue to receive some of the absolute best coffee in the world. Cheers to all the champs!
1st Place Champion Tony Querio, Spyhouse Coffee Roasters – Ecuador Juan Peña
Congrats to Austin Amento from Augie's Coffee Roasters who was a top 6 finalist
The Brewer's Cup and Barista champions will go on to compete in Dublin, Ireland June 23 – 25 to represent the United States at the World level. Congrats to all competitors for their hard work and excellent performances!
**Check out our awesome coffee cocktail article and the perfect cold brew cup!