Our favorite way to make coffee on a daily basis is with a pour-over brewer; taking a little extra time and attention to carefully craft a morning cup of life-giving elixir. However, we also realize that for most people, mornings are a chaotic event. Rushing to get kids dressed and ready for school, hurrying out the door to get to work, or just plain trying to get stuff done, not everyone has all the time in the world to hand brew a cup of coffee.
The remaining options are bleak, either conceding to the universe and buying one of those uber convenient pod brewers, or you've got to stop at the nearest coffee shop on your way to school or work. The last option is to use a good, old fashioned coffee maker that helps free up your hands and make fresh coffee at home, without compromising on quality or having to make an extra stop.
While we think that automatic coffee makers can brew a delicious cup, many of the brewers on the market just don't have what it takes to get the job done.
Potential Problems with Coffee Makers
While these coffee makers are ubiquitous, they don't come without their own issues that can result in less than ideal coffee. If you have made your morning cup with one of these brewers, odds are that you've tasted coffee that wasn't nearly as good as your local coffee shop – here's why.
Coffee makers work by heating water with a heating element – similar to a toaster, a coiled wire gets hot as electricity is passed through it. As the water is heated, it climbs up a plastic tube and then dispenses over the bed of coffee sitting below. Most brand name coffee makers have a fairly cheap heating element, most are rated for 1,000 watts or lower, that fails to get water to the proper temperature for brewing. They also usually have cheap plastic parts on the inside, losing heat rapidly and failing to provide adequate insulation of the slurry of coffee grounds. Without sufficient water temperature and insulation, coffee can't extract properly. Additionally, the way that water is delivered over the coffee grounds can have a huge impact on the extraction. If the water doesn't evenly cover and saturate the grounds, dry pockets can form, which will undoubtedly under-extract the coffee. Under-extraction means that not all of the coffee flavor was adequately dissolved from the coffee, which leads to watery coffee that can taste sour and unpleasant – no one wants that!
The Good News
Luckily, with the recent surge of interest in Specialty Coffee, there are a handful of manufacturers who are making really great coffee brewers that have the magic formula to make amazing coffee day in and day out.
The things that all of these brewers have in common? Good design and high-quality parts. As I mentioned before, limiting the amount of plastic helps to not only build a more sturdy machine, but it also helps to insulate the water from the heating element to the shower head and keep the slurry warm during brewing, which in turn makes better coffee. The design of the shower head or spout where the hot water is dispersed over the grounds can be the difference between a good and bad coffee maker. Aside from the internal design, aspects like how easy the carafe is to hold or how intuitive the interface of turning the brewer on can be critical elements. Lastly, designing a machine that follows not only function but also form is equally important. With something that is going to live on your counter, you want a coffee maker that is aesthetically pleasing and might even be a conversation piece.
As with any product, you always get what you pay for. Mr. Coffee makers or similar products are going to beat our recommended coffee makers on price, simply because the internal components aren't high quality and there's a lot of plastic parts inside. With all of the brewers we like to use and recommend, you're going to be investing a little bit of money on a coffee maker, but we guarantee that it's totally justified and will be well worth it – especially compared to the lifetime cost of Pod Coffee maker or daily trips to the coffee shop.
Here are a few of our favorite coffee makers on the market today.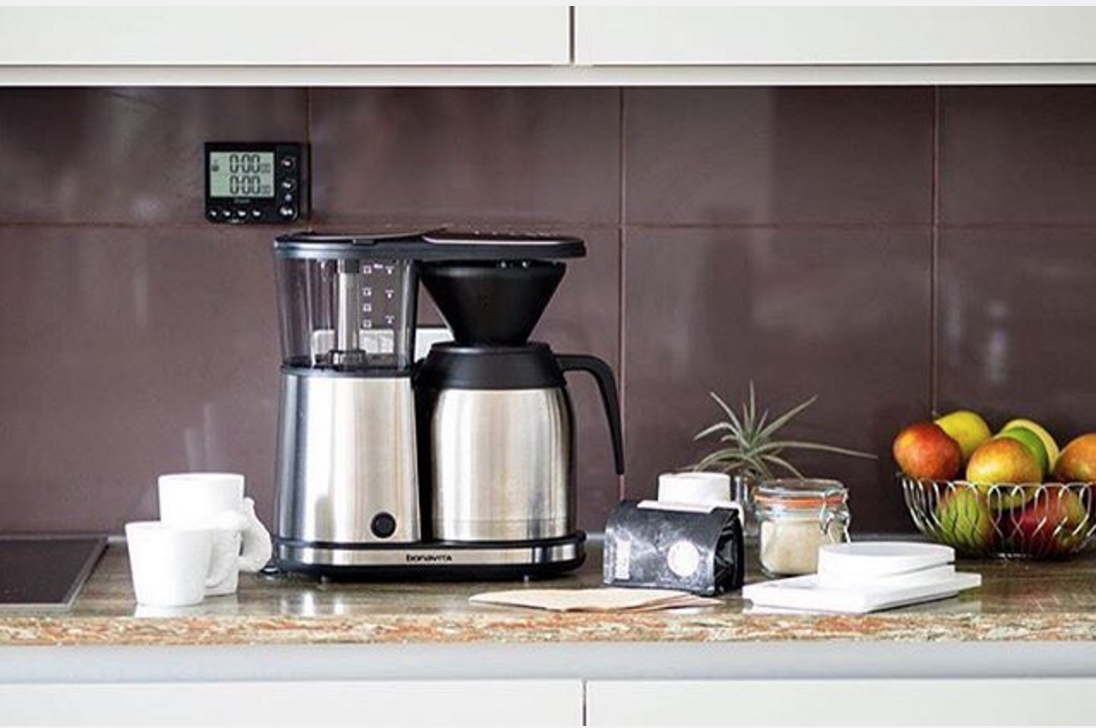 Best Value
Pros: Affordable Price, Thermal carafe, Good shower head design
Cons: More plastic parts than Technivorm or Ratio Eight
For most people's budget, this is likely the brewer that most people are going to lean towards and while it's the least expensive option, it brews just as well as some of the best machines out there. Our pick for the Best Value coffee maker is one that we already mentioned a few months ago when we talked about how to brew coffee in your office. The Bonavita 8-Cup Coffee Brewer is hands down the best value coffee maker on the market today. At around $130 on Amazon, Bonavita has made a sturdy, reliable machine that looks good, is easy to use, and most importantly, can brew really delicious coffee. This machine includes a 1,500-watt heater that is more than sufficient to get the water hot enough for optimal extraction, uses BPA-free plastic components and we love the thermal carafe which keeps the coffee hot for a long time without needing to sit on a hot plate.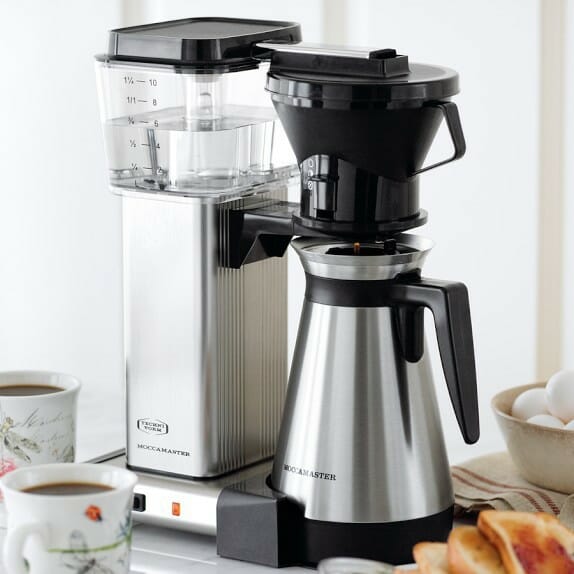 Industry Favorite
Pros: Thick Metal Body, Good Parts, Thermal Carafe
Cons: Price, Shower head design requires some manual stirring for best results
Until recent years, the Technivorm Moccamaster has been the industry favorite for coffee brewers because it was the only decent home coffee maker available. Assembled by hand in the Netherlands, the Moccamaster beats the Bonavita on build quality, having much more metal than plastic. It also has a 1,400-watt heater made out of copper, which means that the water gets to just over 200ºF, perfect for brewing. Retailing at $319 on Amazon, this coffee maker is the middle of the road as far as price goes. We like the thermal carafe model over the glass since it can keep coffee hot for well over an hour. Overall, it's one of the best brewers available thanks to its great build quality, good design, and reliably delicious coffee.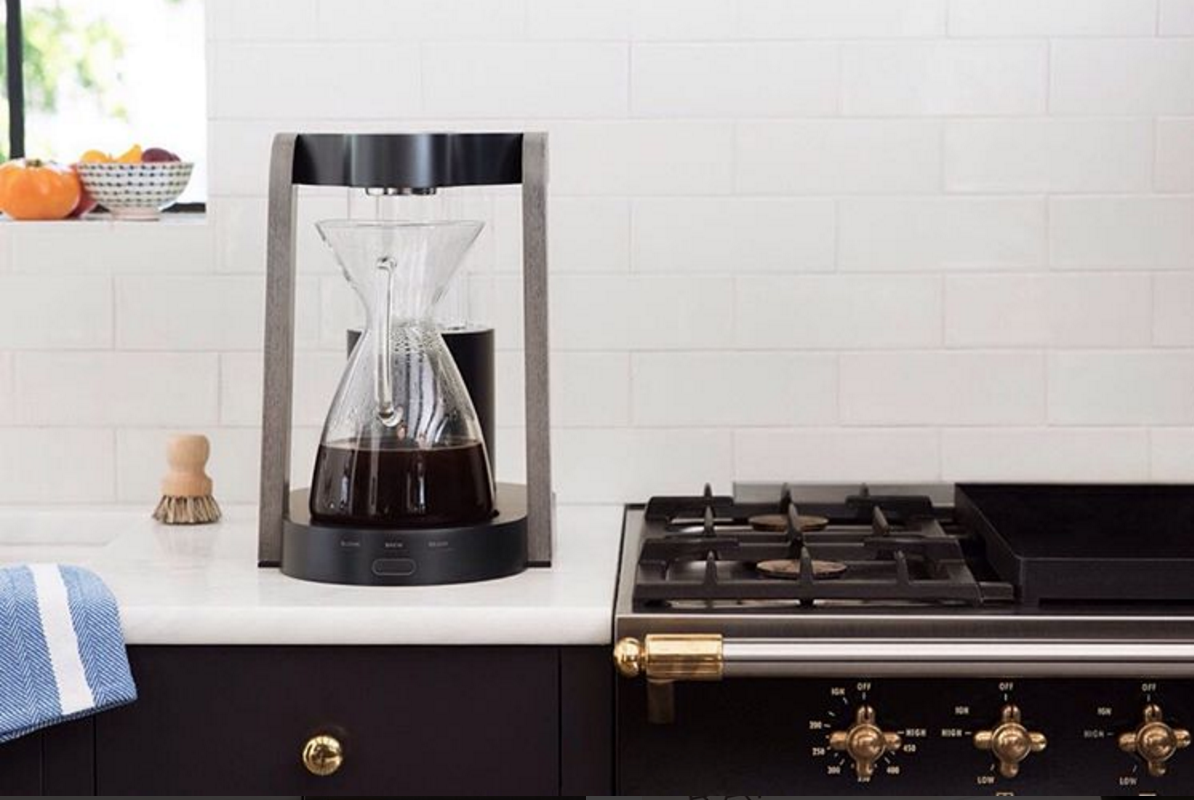 The 'Cadillac of Coffee Makers'
Pros: Beautiful Design, Made in USA, High Quality Parts
Cons: Price, Doesn't come standard with thermal carafe
Designed by Clive Coffee founder, Mark Hellweg, and hand-constructed in Portland, Oregon, the Ratio Eight coffee maker is the Cadillac of coffee makers. Made with precision-machined aluminum, borosilicate glass, and a selection of premium hardwoods, you can choose the right finish and wood color combination to match your kitchen. Since this coffee maker uses only the highest quality of parts and is hand assembled, this coffee maker comes with a bit of sticker shock at $595. We know, we know… $600 for a coffee maker?! Hear me out. For fans of the Eames Chair or Frank Lloyd Wright's architecture, the Ratio Eight has a certain midcentury minimalism that makes it perhaps the most beautiful coffee maker we've ever seen. This machine also boasts a whopping 1,600-watt heating element and a simple one-touch interface that starts the brewing process. When you consider that this is made in the USA, its parts blast its competitors out of the water, and its design is the perfect combination of function and form, it's understandable why this machine would come with this steep price tag. Not to be outdone, the coffee this machine makes is delicious, and with a 30 second 'Bloom' stage, this brewer is arguably the closest to pour-over coffee we've had on an automatic brewer.
**Check out our awesome coffee cocktail article and the perfect cold brew cup!