It's the holiday season, and we're on the hunt for the best seasonal holiday coffee blends available. Since we work with 60 of the country's best roasters and we are constantly sampling new offerings from cafes, roasteries, and coffee producers, you could say we taste a lot of coffee. We've chosen a list of the 25 very best holiday roasts of 2022.
---
This is the Mistobox 2022 Holiday Blend Guide
---
Kuma Coffee | Bear Claus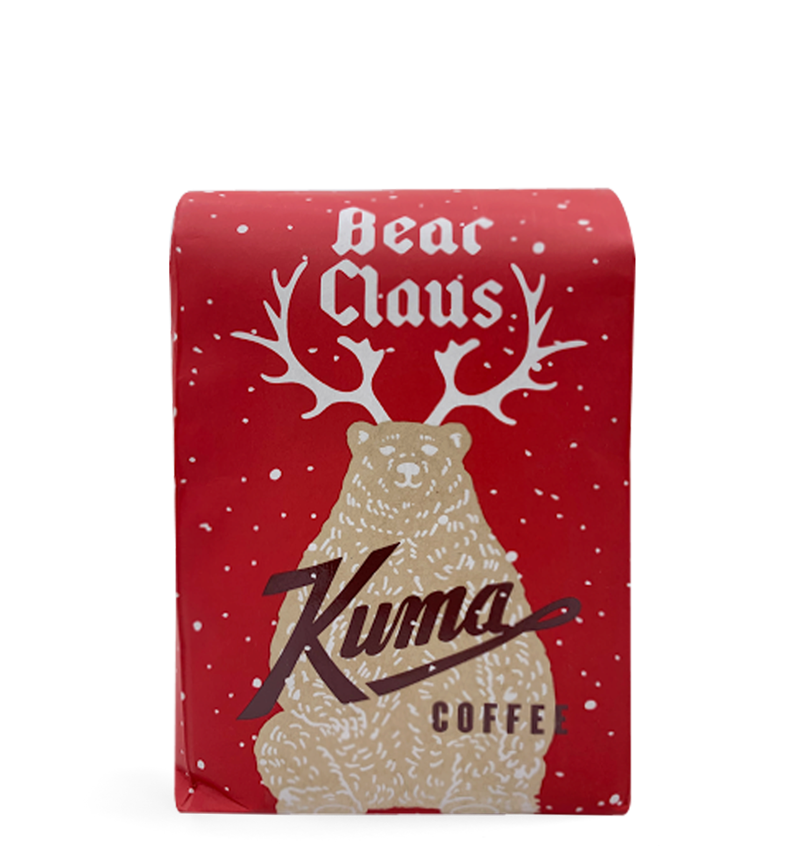 This vibrant blend of Washed Guatemalan and Kenyan coffees will put you in the spirit for scarves, gift-giving, and reindeer. We taste spiced fruit cake, citrus, cocoa, and cane sugar.
Sightglass Coffee | Winter Solstice Blend
Named for the longest night and shortest day of the year, Winter Solstice is the perfect accompaniment to cool weather and changing seasons. Sightglass combines coffees from Kenya and Colombia to inspire flavors of chocolate truffle, marzipan, and black currant.
Portrait Coffee | Kindred, A Holiday Blend
This festive holiday blend combines a natural processed Brazilian coffee with a Fully Washed Rwandan coffee. The resulting cup is complex and vibrant, offering notes of cranberry, orange, toasted pecan, baking spices, and chocolate.
Ceremony Coffee | Holiday Annuals
This holiday blend captures the beauty and flavor of balanced in-season coffees. The Ethiopian natural component is perfect for deep, full red fruit notes combined with the balanced vanilla and brown sugar flavors from the Guatemalan coffee. Every brew keeps you warm and cozy with notes of cherry, hot chocolate, and shortbread.
Verve Coffee | Holiday Blend
Washed and natural coffee components from Ethiopia, Indonesia, and Costa Rica harmoniously come together in Holiday Blend, showcasing notes of deep chocolate cherry, pear, and candied pecan to create a beautiful, well-balanced cup of cheer.
Temple Coffee | Festivity Blend
Temple's holiday blend is packed with festive flavors like honey, fig, nougat, and citrus. Full in body with a lingering finish, the Festivity Blend offers a well-rounded drinking experience with each cheery sip, bringing the perfect amount of holiday bliss all season long.
Populace Coffee | Joyeux Holiday Blend
Joyeux combines washed coffees from the Cauca region of Colombia and the Sidama region in Ethiopia. The result is a very balanced, smooth, and comforting coffee with notes of milk chocolate, toffee, and candied fruit.
Tandem Coffee | Jingle Beans
Each year Tandem creates a holiday blend as viciously fruity and seasonally outlandish as possible. This year they went for it by blending two merry coffees that triumphantly coalesce into the best interpretation of aqueous fruit cake in a cup.
Methodical Coffee | Christmas Vacation
The Christmas Vacation Blend combines Methodical's Costa Rica La Pastora and Ethiopia Guji Natural. The well-rounded profile of chocolate, cherries, and berries will surely bring in the holiday cheer.
Bird Rock Coffee | Naughty & Nice Blends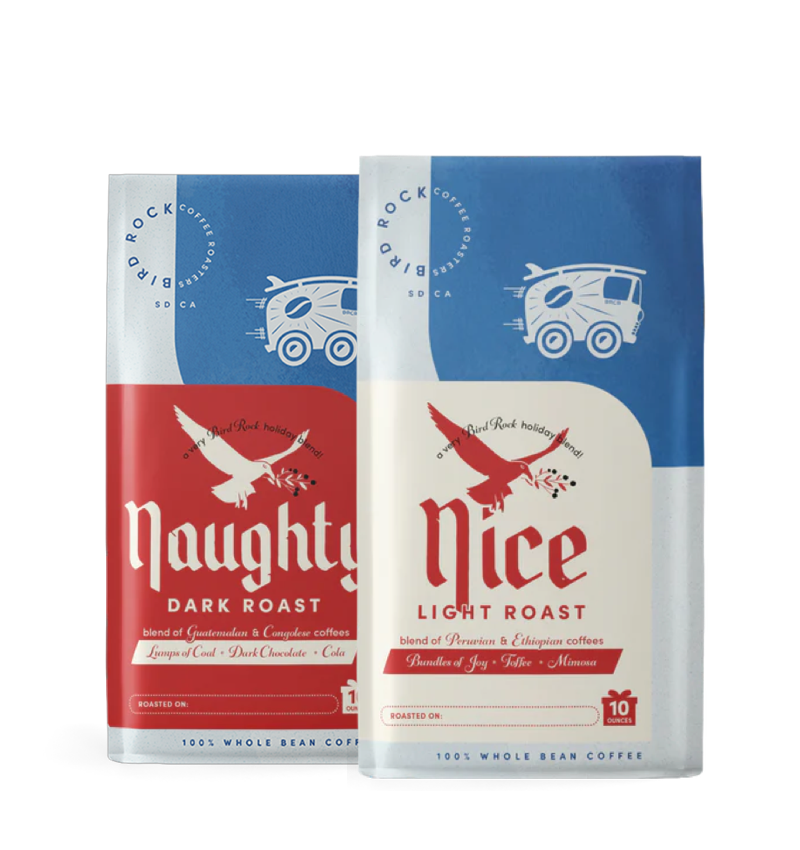 Whether you were naughty or nice this year, Bird Rock has the holiday blend just for you. For the naughty folks, Bird Rock has a slightly more developed roast profile with darker chocolate and cola flavor characteristics. For those that aren't accustomed to receiving coal in their stockings, Bird Rock blends two Washed Ethiopian and Peruvian coffees to invoke brighter, cheerful flavors like orange, champagne, toffee, and marshmallow.
Goshen Coffee | Snow Days
Who doesn't love a good snow day every once in a while? This year Goshen blended a Colombia La Pelota reserve lot with naturally processed coffees from Mexico and Brazil to make a rich, sweet, and fruity treat. It'll be just what you're looking for when there's nothing to do but look out the window at a frozen landscape.
Cat and Cloud | Holiday Blend
Doing double duty as espresso and brewed coffee, this blend of a highly developed Peruvian and a lighter Ethiopian roast brings a balance of classic and modern flavors.
Greater Goods | Holiday Holly Blend
This coffee's a cold-weather pleasure, with cozy flavors that remind us of dark chocolate peppermint bark and baked apple pie. Brew it on French press to highlight some big, bold body, or as drip for the whole family.
Caffe Vita | Holiday Blend
This one is an all-around crowd-pleaser. Brew it as drip, espresso, or any method of your choice for a comforting cup with notes of subtle, spiced orange, brown sugar, chocolate, and nougat. Inspired by winters spent in cozy mountainside cabins in the Pacific Northwest, this blend is the perfect complement to the holiday season.
Camber Coffee | Cambrrr Holiday Blend
This winter holiday blend is extremely sweet, offering vibrant flavors of red fruit, maple, and cacao nib. Washed lots from Ethiopia and Guatemala combine for a decadent treat.
Onyx Coffee | Framily
Framily, a heartwarming Holiday roast, embodies the joy of spending time with friends and family. It is a developed medium roast with complex cocoa and sweet berry cobbler-like flavors in the cup. Be sure to check out Onyx Coffee's Krampus for a darker, more intense experience.
Ritual Coffee | Sweater Weather Espresso
As layered as your wardrobe this season, Sweater Weather knits together the fruity and floral notes from Ritual's favorite coffees. We're tasting flavors that remind us of passionfruit, lemongrass, citrus, and oolong tea.
Sisters Coffee | Holiday Cheer Blend
Sisters' Holiday Cheer Blend is meant to keep you feeling cozy while you greet the chilly winter morning or to compliment sweet treats shared with loved ones by the fireplace. Notes of toffee, milk chocolate, and tamarind spice.
1000 Faces Coffee | Winter Solstice Blend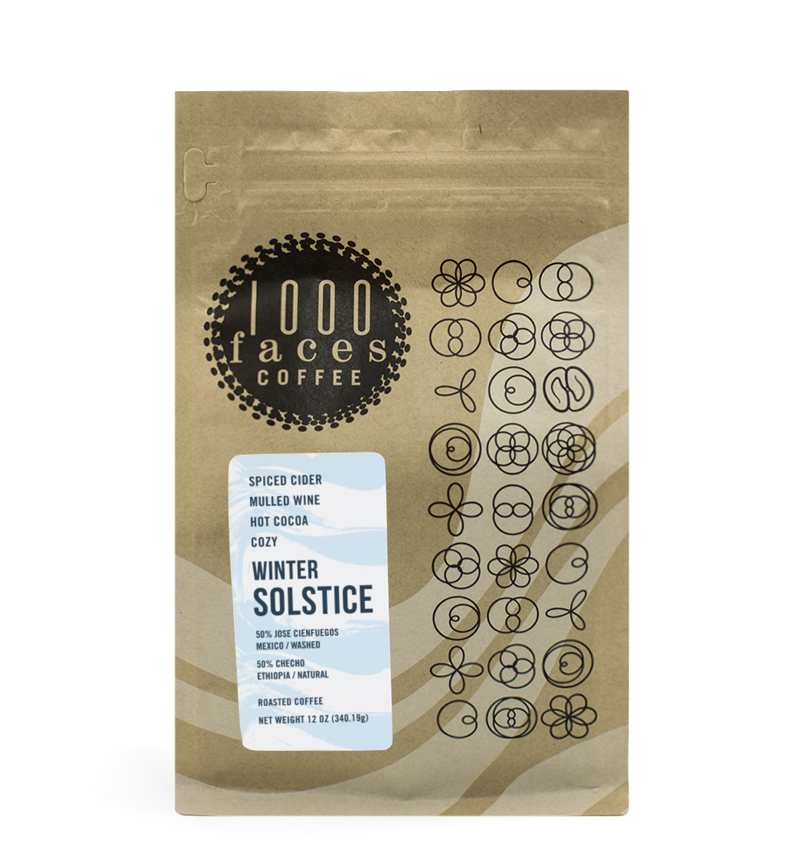 Winter Solstice Blend was created with all brewing methods in mind, so it's guaranteed to shine any way you brew and always please a crowd. We taste: apple, fig, raisin, orange peel, mulled wine, brown sugar, molasses, baking spice, pecan, and cocoa.
Topeca Coffee | Sweater Weather Blend
Coffees from Brazil, Ethiopia, and Sumatra were carefully chosen and blended together to create a complex holiday cup. Dark chocolate, toffee, nuts, and baking spices are met with subtle citrus, berry, and floral qualities.
Huckleberry Coffee | Sister Winter Blend
Natural and washed processed coffees from the Aprocafé group in Guatemala combine to create a full-bodied, rich, and crowd-pleasing blend. We're tasting dark chocolate, mixed berries, and sweet baked good.
Mela Coffee | Holiday Blend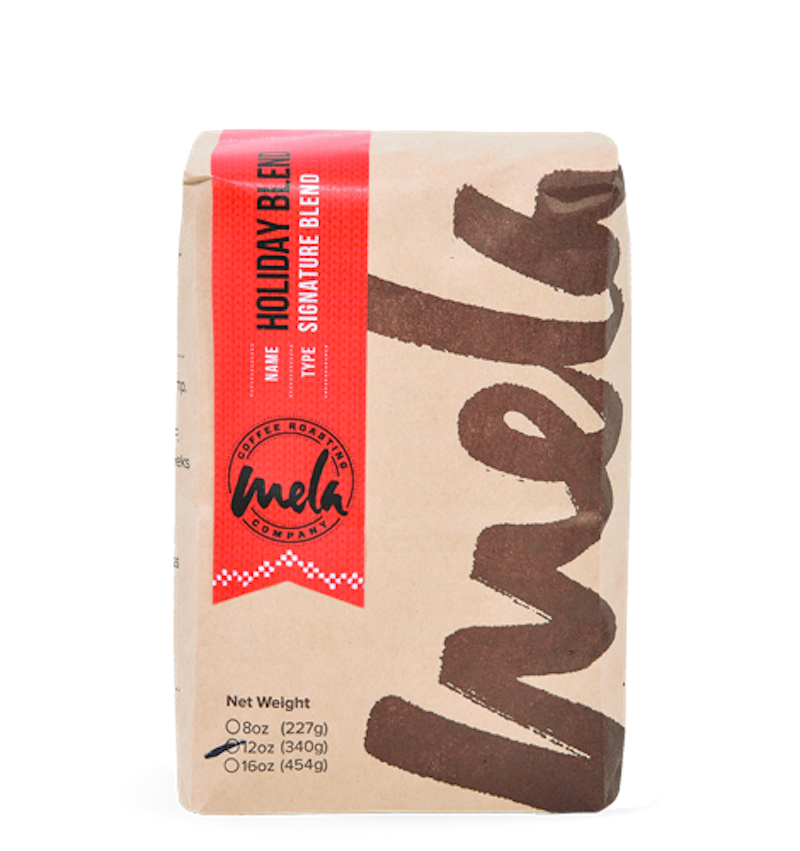 Mela combines a pulped natural coffee from Costa Rica with a wet-hulled Sumatran coffee. The result is a balanced and festive cup that reminds us of cocoa, molasses, baking spices, and black cherry. Curl up next to the fire and enjoy this winter wonderland of coffee.
Evans Brothers | Holiday Blend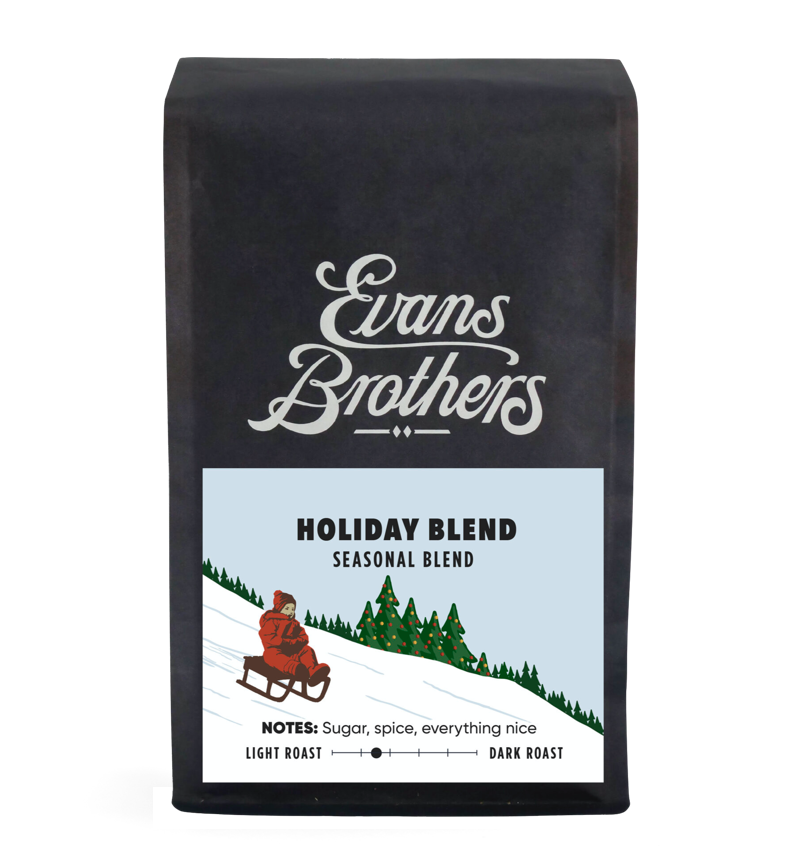 With flavor notes of sweet maple, cranberry, chocolate, and hazelnut, this Holiday Blend will surely warm your spirit this season.
Ladro Roasting | Fireside Blend
This Fair Trade & Organic certified blend features fresh coffees from Peru and Honduras at a darker roast profile for those that enjoy a strong, intense cup.
---
Staff picks
---
Still looking for the perfect gift? Be sure to check out our 2022 holiday gift guide for coffee enthusiasts. From stocking stuffers to shiny new espresso machines, there's something for everyone. Also, enter to win free coffee here!