PT's Coffee Roasting Co. was born in 1993 in Topeka, Kansas out of Jeff Taylor and Fred Polzin's simple desire for an excellent cup of coffee. Four years and two retail locations later, they began roasting and traveling to the origin, forging the Direct Trade partnerships that have made PT's a leader in the specialty coffee industry. Exceptional coffee depends upon great partnerships, and PT's partners are selected for more than their harvests—they are socially responsible and environmentally conscious.
We are so excited to have PT's Coffee Roasting Co join as one of Mistobox's Roasters and decided to hit the PT's team with some questions and they provided us answers.
Welcome PT's Coffee!
[MB] What's the most important thing that MistoBox fans should know about you?
[PT's] The quality of the coffee we source, and the relationships we cultivate. Nearly 80% of the coffee we roast annually is purchased by Direct Trade with our producer partners, many of which we have worked with for over a decade.
[MB] You've been referred to as pioneers of Direct Trade. When sourcing coffee, what do you look for?
[PT's] Direct Trade is a practice central to our green sourcing for twenty years now. Quality is always the driving factor for us but it must be accompanied by ethics and equitability. Cooperation and collaboration are both necessities and perks of our producer-partner relationships.
[MB] What brought PT's to specialty coffee and roasting in the first place?
[PT's] It was a series of steps with an eye towards improving and controlling quality, equity, collaboration, and sustainability. In 1993, Jeff and Fred started PT's as a coffeehouse. Shortly after, they began roasting their own. Still not content with the quality of their coffee, they began traveling to coffee farms. Those travels introduced them to producer partners that we still work with today, while also centering them in the emerging specialty coffee community. Jeff has since judged several Cup of Excellence competitions and helped develop the United States Barista Competition.
[MB] Which machine(s) do you roast with?
[PT's] Diedrich IR24, Diedrich IR5, and Gothot 90kg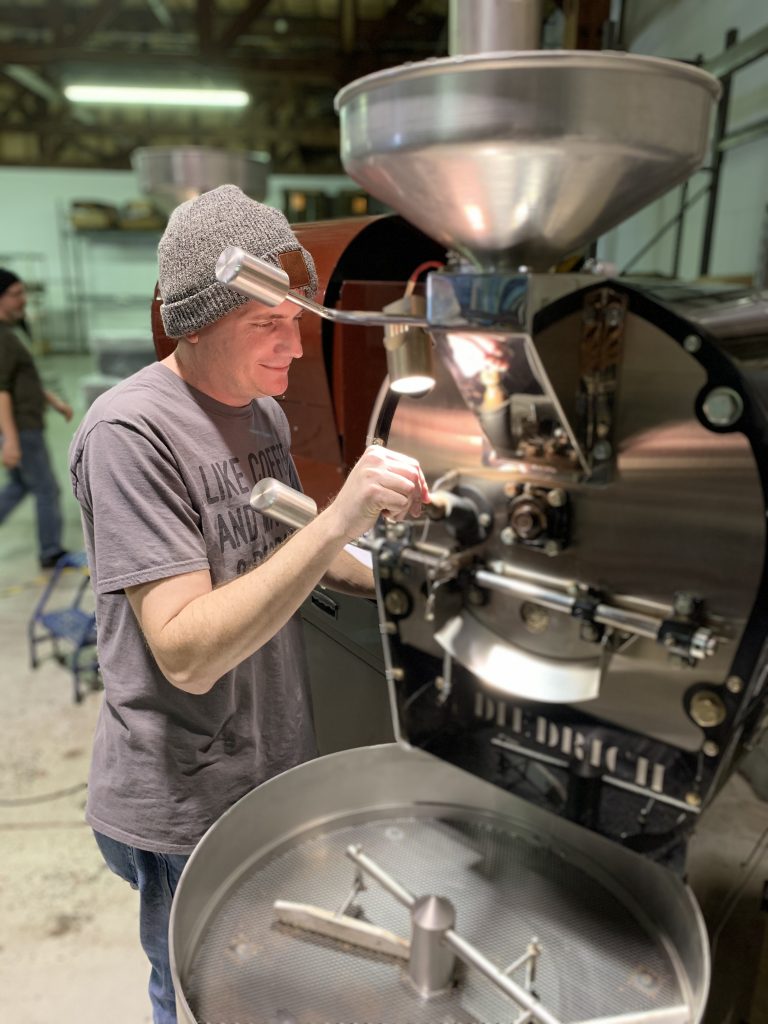 [MB] What has kept you motivated all this time?
[PT's] Our connections with people throughout the specialty coffee chain. Seeing the impact of rising wages and improving coffee processing techniques has at our partner farms keeps us motivated. As well as raising funds and awareness for our own community at home. Making a difference where we can, while producing the best coffees we can.
[MB] Do you have any coffee heroes? Is there anyone you look up to or follow?
[PT's] Grounds for Health, Coffee Kids, Food 4 Farmers, International Women's Coffee Alliance, and other organizations working toward positive social change in coffee-producing countries.
[MB] What issue in coffee do you care about most? And what makes you most excited about the future of specialty coffee?
[PT's] Sustainability, for lack of a better term. In truth, our mission should not be about "sustaining" current social and economic conditions, natural environments, access to health care, coffee availability and quality, etc. It should be about evolving and improving all these conditions rather than simply preserving the status quo.

What's exciting? The trend toward making specialty-grade coffee mainstream and the impact that younger people can have in making this happen. Specialty coffee won't survive without new involvement and investment by younger generations, specifically at origin.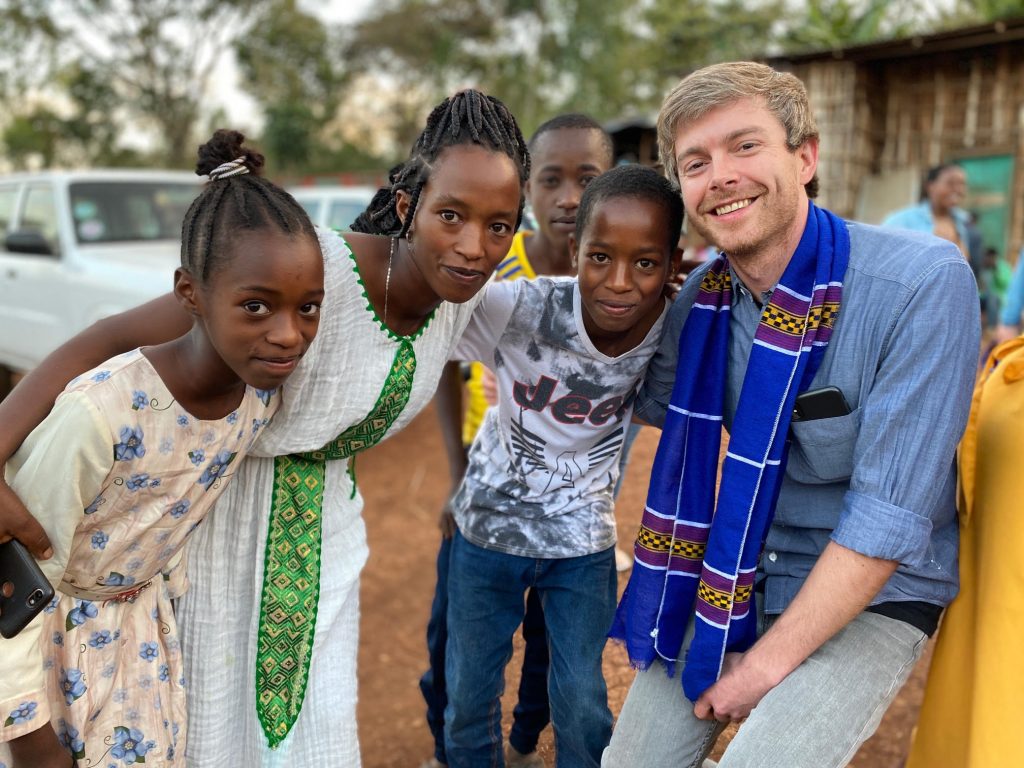 [MB] We are curious about your blends and how you come up with some of the names. Tell us about your Flying Monkey Espresso!
[PT's] It's no secret that we are located about as far from any coast as you can get, so we decided to lean into our Kansas roots. Flying Monkey is a reference to the menacing critters from The Wizard of Oz. It takes its place amongst our other signature blends—Flatlander, John Brown, Ad Astra, Per Aspera, Flor del Sol, and Cold Front—all steeped in our home state's history and lore.
[MB] Tell us about your unique brand design and packaging?
We worked with the Carpenter Collective in Kansas City to come up with our current branding. Our iconography reflects the work that goes into harvesting coffee, its journey from coffee-growing regions to our roasting facility in Kansas, and on to our customers' cups. The history and landscape of Kansas are featured in our blend names and in our Bison logo. Our packaging is the canvas we use to communicate information about ourselves and the coffee to our customers, so it features our story as well as detailed coffee information on the label. Most importantly, it keeps our coffee as fresh as possible.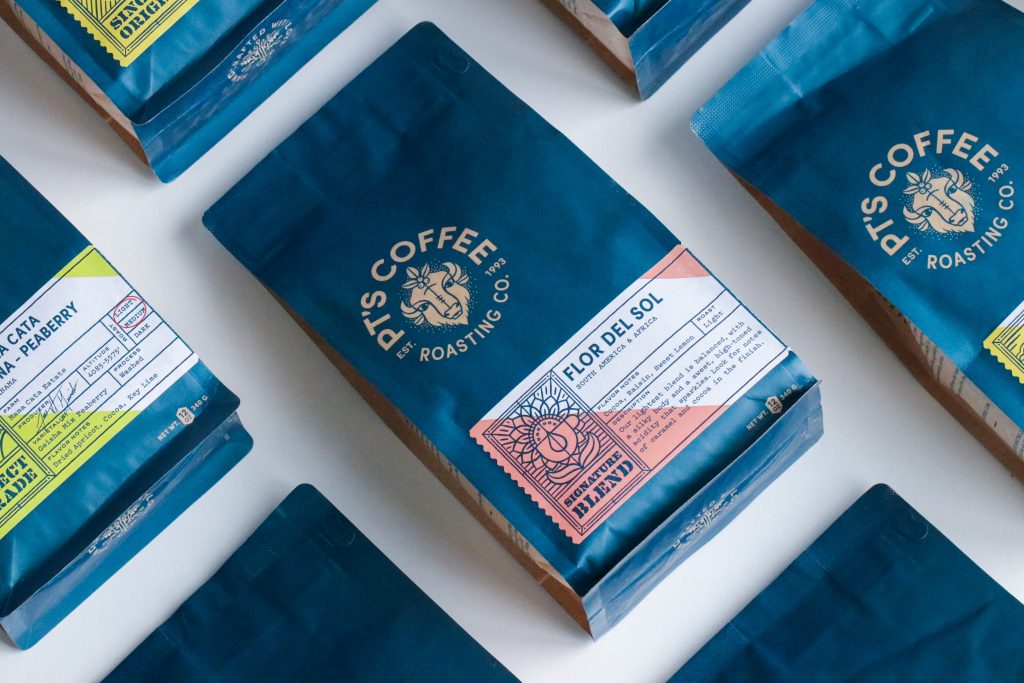 [MB] So if PT's were an emoji, what would you be and why?
[PT's] 🦬 The Bison. New in 2020, we were happy to see our scruffy friend and company mascot represented in emoji.
[MB] What else makes PT's Coffee different?
[PT's] We have been fortunate to be able to offer our employees health, dental, life, and disability insurance, as well as paid vacation and sick leave, and a retirement plan for twenty years now. We also employ an equal number of men and women in our cafes as well as in our production and office facility.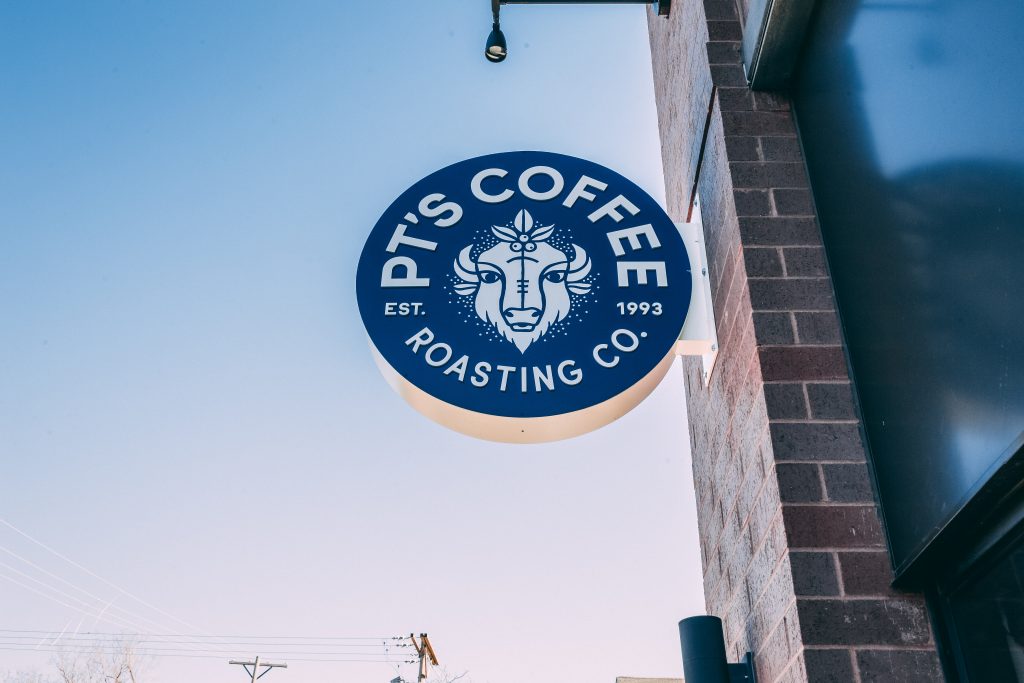 Inspired to give PT's Coffee Roasting Co. a try? A great selection of PT's specialty coffee is available in our shop. Learn more about specialty coffee on the Mistobox tasting series.